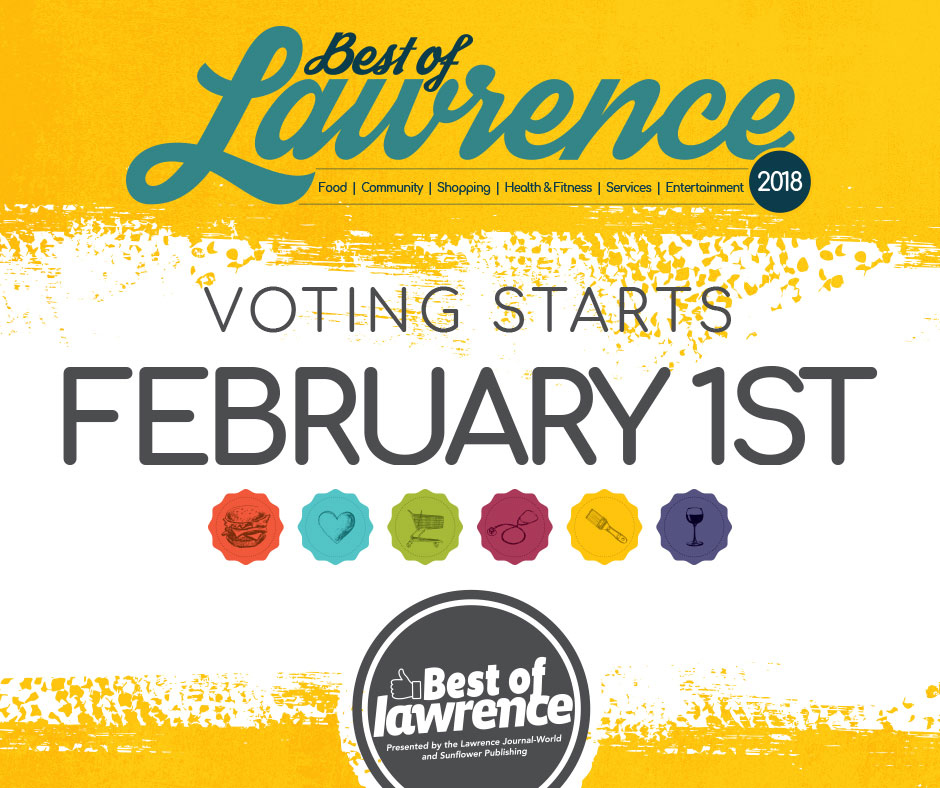 ---
Best of Lawrence is an annual people's choice event that honors Lawrence as a community and highlights the businesses, individuals, organizations and ideas that make our community a better place to live.

Have questions? Check out our FAQ page, or email the folks behind the scenes at the Lawrence Journal-World and Sunflower Publishing: feedback@bestoflawrence.com
---
---
---
The Voting
When: 12:00 a.m. on Thursday, Feb. 1 to 11:59 p.m. on Wednesday, Feb. 28.
Where: Right here, on bestoflawrence.com.
How: One vote per category. No daily voting this year. (see our FAQ for more).
Who: All your Lawrence favorites from 2017 will start out on the ballot and we'll be adding more based on your write-ins.
---
The Magazine
When: Thursday, June 21 (see below).
Where: Locations around Lawrence.
Who can advertise: Anyone! Placing an ad isn't dependent on the ballot and won't affect the results.
How to place an ad: Contact Joanne Morgan at ads@bestoflawrence.com or at 785-832-7264.
---
The Event
When: Thursday, June 21, from 4:30 to 6:30 p.m.
Where: Abe & Jake's Landing, 8 E 6th St.
Tickets: Available soon! Check back for details.
Questions: Contact Allie Sebelius at asebelius@ljworld.com or at 785-832-6365.
RSVP: Facebook event

---