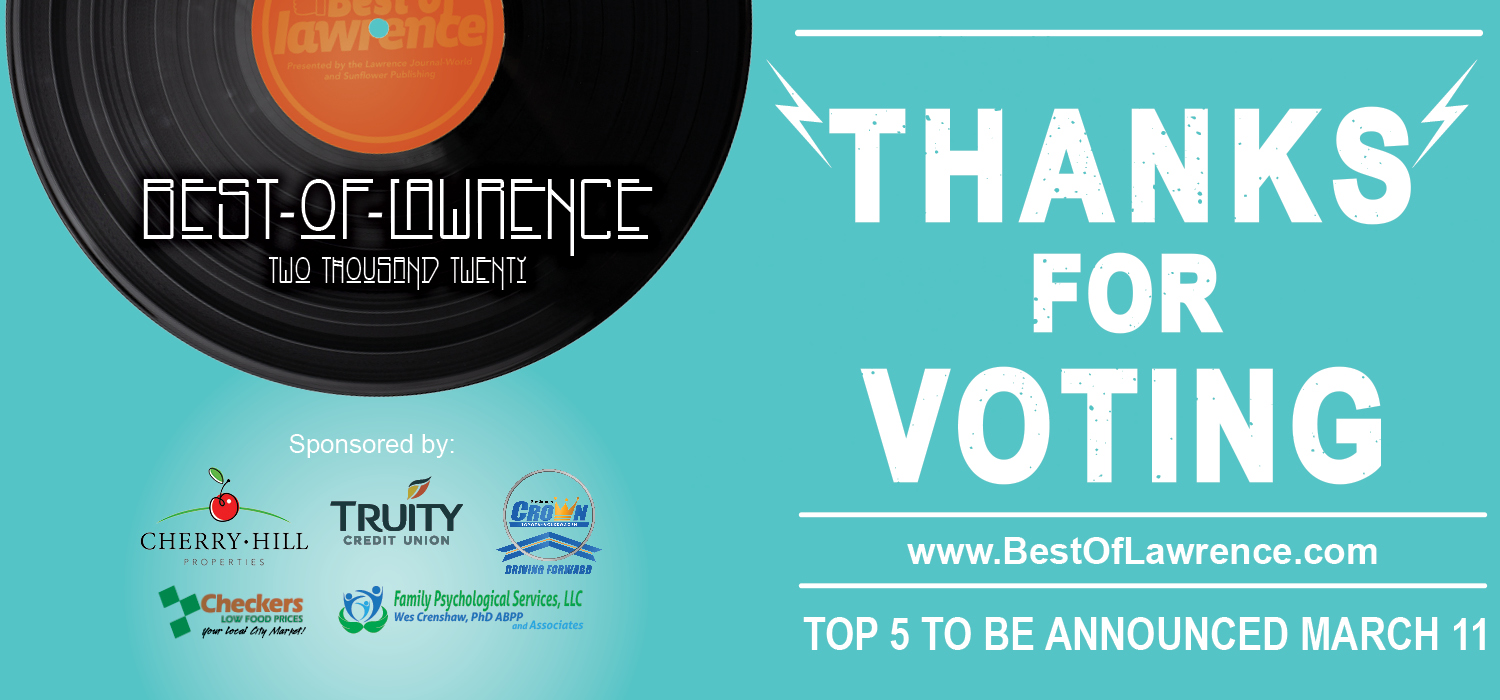 ---
Best of Lawrence is conducted by the Lawrence Journal-World and Sunflower Publishing. Have questions not answered below? Email us at feedback@bestoflawrence.com
---
The Voting (Finished! Check back soon for the Top 5 finalists)
When: 12:01 a.m. on Monday, Feb. 3 to Friday, Feb. 28 at 11:59 p.m.
Where: Right here, on bestoflawrence.com.
How: One vote per category. No daily voting this year. (see our FAQ below for more)
Who: Everyone on the ballot from 2019 will start on the ballot this year and we'll be adding more based on your write-ins.
---
The Event
What: The big reveal of the 1st, 2nd and 3rd place winners from Best of Lawrence voting. Not on the ballot? Not a problem! Everyone's invited!
When: Thursday, Sept. 17
Tickets: On sale now!
Questions: Contact Allison Tait at atait@ljworld.com or at 785-832-7248.

---
The Magazine
What: A big, beautiful magazine full of the results from voting, along with exclusive special features about your favorite Lawrence people and places.
When: Thursday, Sept. 17 (see below).
Where: Locations around Lawrence.
Who can advertise: Anyone! Placing an ad isn't dependent on the ballot and won't affect the results.
How to place an ad: Contact Joanne Morgan at ads@bestoflawrence.com or at 785-832-7264.
---
Best of Lawrence 2020: Frequently Asked Questions
What is the Best of Lawrence?
Best of Lawrence is an annual people's choice event intended to honor Lawrence as a community and to honor the businesses, individuals, organizations and ideas that make our community a better place to live.
When can I vote? Where?
Best of Lawrence 2020 voting runs from 12:00 a.m. on Wednesday, Feb. 3 to 11:59 p.m. on Friday, Feb. 28. Use the menu at the top to get to the ballot, or click here.
How many times can I vote?
One vote, per category. And that's it. No daily voting in 2020 - same as last year! There's a lot to love about Lawrence, which means there are lots of categories. And we want you to be able to vote for all your favorites, at your own pace.

If you vote for a nominee on Monday, you can come back on Tuesday and change your mind. Or you can return the following week and write in that new place that just opened around the corner. Whatever you've saved at the end of the month will count as your one vote in that category.
How are people and places added to the ballot?
This year we've used the final ballot from 2019 to pre-seed this years ballot. If your favorite person or business isn't listed, no worries! You are still able to write-in during the voting period. If your business or name should be removed from a category, let us know by emailing us at feedback@bestoflawrence.com.

Like last year, we are able to add write-ins to the ballot as the votes come in, hopefully leveling the playing field for new and up-and-coming nominees. So if you submit a nominee, check back the next day and it should be on the ballot for all to see — and for you to share!

(Oh, and although we get a kick out of seeing Allen Fieldhouse submitted for "Best Place of Worship," our team will only approve relevant entries.)
Can you add a category to the ballot?
Sorry, categories are set for this year. But we do want to hear your suggestions for 2021! Please tell us which categories you think we should add (or even remove) by emailing us at feedback@bestoflawrence.com.
There's some outdated or incorrect information on the ballot. Can you fix that?
Uh-oh. Yes! We tried to double-check everything, but mistakes still happen. Please tell us what's wrong, then point us to the correct info, and we'll get it fixed: feedback@bestoflawrence.com.


Why hasn't my write-in been added to ballot?
There could be a number of reasons. Here are some of the most common:

(1) We haven't gotten to it yet. Our small team is working around the clock, but there are thousands of submissions to sort through, and unfortunately, that takes some time.

(2) There was incomplete information. Complete names and places of employment are super helpful in speeding the process along.

(3) We noticed the nominee wasn't in Lawrence. We love our neighbors in northeast Kansas, but we've had to draw the line at people and places with a Lawrence address.

(4) We messed up. It's possible we made an error or there's a glitch in the system. Reach out to us at feedback@bestoflawrence.com, and we'll be happy to check.
What happened to that one category from last year?
You sent us hundreds of notes during and after last year's Best of Lawrence, and we used that feedback to create this year's ballot. So some categories have been expanded. Others have been tweaked for clarity. And a couple were put on the shelf. We did our best to consider the impact of these changes, but we'd like to hear from you if you have comments or suggestions for the 2021 ballot. Please email those messages to feedback@bestoflawrence.com.
Can I write in a Journal-World or Sunflower Publishing employee for a category?
Sorry, no. While we'd be flattered, our employees aren't eligible for Best of Lawrence recognition. However, they are eligible for high-fives around town or at the Winners Bash event in September (more on that below).
When will votes be counted?
We'll start to tally votes beginning March 1. How long that takes depends on the number of write-ins, but we'll keep you posted and give you plenty of notice before the big reveal.
When will winners be announced?
Thursday, Sept. 17, 2020. Save the date! We call it a Winners Bash, but it's really a party celebrating all the things we love about Lawrence. So even if you weren't nominated, you're still invited and will have the chance to meet the people who make this town special.
When will the Best of Lawrence magazine be available?
The magazine will be available at the Winner's Bash event. And it will be included in subscriber copies of the Lawrence Journal-World that weekend. After that, you can pick up a copy at several locations around town, as well as our offices at 1035 N. Third St., Suite 101-B, in North Lawrence.
Can I advertise in the Best of Lawrence magazine?
Yes! Please contact our sales team at ads@bestoflawrence.com. Placing an ad will not influence the results of the voting.
Do you have any materials to help nominees promote themselves?
We sure do. Free marketing materials, including posters and table tents, are available for pick up at the Lawrence Journal-World offices 1035 N. Third St., Suite 101-B, in North Lawrence, during business hours Monday through Friday. Looking for logos to use in your own promotions? We have those too!


Where can I find previous years results or magazine?
All of the results:
2017
2018
2019

Magazines:
2019
2018
2017
2016
2015


If you're looking for results or the magazine for other years, shoot us an email at feedback@bestoflawrence.com. It might take a little digging, but we should be able to find what you're looking for.
---
Best of Lawrence 2020: Privacy Statement
The Lawrence Journal-World hosts Best of Lawrence on a web platform that uses industry standard security. By registering to vote in Best of Lawrence, you agree to receive email notifications with updates and announcements about Best of Lawrence. You may opt out at anytime by clicking "Unsubscribe" at the bottom of an email, or by contacting info@bestoflawrence.com. To receive other email notifications from the Journal-World, users must opt in to specific questions like "Yes, email me special announcements from LJWorld.com, including events and contests." Your specific user data is used only by the Journal-World for purposes of account management and is never transferred or sold to advertisers. Any promotions on behalf of advertisers will be sent by Journal-World staff through the Journal-World's own platform. Within the Journal-World, direct access to user data is limited, and identifiable user information and voting history is not accessible by the sales or reporting staff. If you would like to delete your user data or opt out of specific emails or promotions, please contact info@bestoflawrence.com.