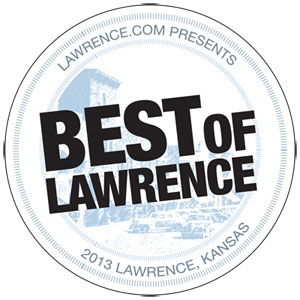 It's a topic of constant discussion in Lawrence: What's your favorite? Who's the best? Which outdoes all of the others?
The subject may be pizza, dentists, coffee shops, bartenders or ice cream. People in Lawrence are always talking about their favorites, comparing notes, jealously guarding special secret discoveries. Everybody wants to know the best in town.
We decided to find out the Best in Lawrence once and for all. We came up with five major subject areas: Community, Food, Going Out, Retail and Services. Next, we compiled a list of more than 130 categories, from best art gallery to best weekend getaway, from best burger to best wine list, from best neighborhood to best shoe store.
Then we put it to a vote — your vote.
The turnout was impressive: In all, more than 7,500 of you went to Lawrence.com to cast ballots — more votes than Mike Amyx, the top vote-winner in the recent City Commission election, received. Many of you voted in dozens of categories. To those who voted: We greatly appreciate your participation over the past few weeks in determining the Best of Lawrence.
There are strong opinions in Lawrence, and they came to the fore in the Best of Lawrence voting. Several categories were nearly too close to call, and we had a few ties. Some winners were longtime local favorites; others were surprisingly popular newcomers.
We've crunched the numbers, figured out the winners and runners-up, and written profiles of several dozen of the top favorites. The result is an invaluable guide to the Best of Lawrence in dozens and dozens of categories. You'll find out who makes the best dessert, who provides the best auto service, where to take the kids, how to find the best caterer — all based on voting by you and your neighbors in Lawrence.
And this being Lawrence, you'll probably find many things you agree with, and few things you vehemently disagree with. That's part of the fun. Let the arguments over the Best of Lawrence begin anew!
Click the categories below to see the winners!
Categories