On Deck
...wherein we listen to what Lawrence's movers and shakers are moving and shaking. to.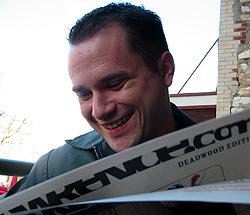 The Spongebob Squarepants Movie Soundtrack
Arcade Fire, "Funeral"
Neko Case, "The Tigers Have Spoken"
Old Canes, "Early Morning Hymns"
This American Life subscription on Audible.com
Top email to lawrence.com
To: homies@lawrence.com Subject: Lawrence.com feedfack Date: December 1, 2004 1:12 PM
I'm at a loss for words:seriously, the organization, design, inclusion, writing style, web-graphics, etc, etc. is astonishing. I've never been as proud to be a native Lawrencian as I am today:and that includes when I was a fifth-grader at Pinckney and KU won the national basketball championship (which for me is a benchmark):bully to all the fine contributors. Outstanding:easy to see why it has won all the awards. Truly amazing. Keep up the great work!
-Aaron
From: homies@lawrence.com Subject: Re: Lawrence.com feedfack Date: December 2, 2004 2:12 PM
Aaron. . .
We humbly thank you for the kind words of encouragement. We also humbly thank the jerks, hacks, and idiots who attempted to create websites in the days before we came along. These "Googles" and "ebays" with their puny functionality and flaccid design elicited the pity that spurred us on to build the work of mind-boggling awesomeness you see today. Again, thank you all.
-homies
To: homies@lawrence.com Subject: Website Date: December 2, 2004 5:12 PM
hi.
your new website looks good, however it doesnt seem to function properly on my Explorer 5.2 for mac, used on a mac G5.
attached is a screen shot of it. i had some problems with the old site but not as bad.
thought you might like this kind of feedback as your working kinks out of the new site
thanks, chris
From: homies@lawrence.com Subject: Re: Website Date: December 3, 2004 9:12 AM
Hi Chris. . .
We think we can help. Go into your Internet Explorer preferences, and under 'Advanced,' check the 'Use any other browser' box. If this doesn't work, go to microsoft.com and stare numbly at the screen. If, after 15 minutes of this, you haven't gone to mozilla.org to download Firefox 1.0, do an emergency shut down and cease any sort of productivity. This is absolutely unneccessary, but it should prepare you for
the loss of billable hours you will continue to experience when using Microsoft products.
-homies
Top websites of the week
dubyamovie.com This may be the funniest thing on the internets today. Don Knotts stars in the film "Dubya."
Top new feature at lawrence.com
If you've ever written a letter to the editor of an area newspaper(s) that was refused due to its politics or ideology, or if you've ever been too busy in your self-righteous indignation to write one, lawrence.com will print the censored letter or will write one for you. A crackpot rant will be constructed to your specifications, with bad grammar and spelling errors added for authenticity. We will not pull punches, lob softballs, or commit any other sports metaphor. Rest assured, the anger you feel about the imagined injustice of your choice will be felt to our very marrow. Speak up Lawrence! You finally have a voice - and it's ours.
Fraggle Stick Bar:
A 'Bad Santa' drinking game
Rules for play (Please play and drink responsibly):
Each player begins game with full drink. Players must take liberal swallow of someone's drink every 30 seconds, regardless of game activity.
At any mention of sandwiches, player closest to television must make sandwiches for group while remaining players drink. Sandwich maker then gives each player one sandwich in exchange for one swallow from their drink.
At any mention of a wooden pickle, the Walnut King, the long-eared donkey, or a Fraggle Stick Car, players must drop pants, drink, and change seating positions. Contestants may re-pant if desired.
When Santa drinks, you drink.