On Deck
...wherein we listen to what Lawrence's movers and shakers are moving and shaking. to.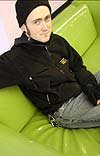 Silver Chair, " Diorama"
Saves The Day, "In Reverie"
Beatles, "Magical Mystery Tour"
HUM, "Downward Is Heavenward"
Burning Airlines, " Identikit"
Top email to lawrence.com
To: homies@lawrence.com Subject: Horse Show Date: January 15, 2004 7:01 PM
We will like to invite you to 1st Middle East Horse Show and Equine Event April 21-25 2004 in Adana/Turkey For further more details please do not hesitate to write us.
Regards,
Orhan
From: homies@lawrence.com Subject: Re: Horse Show Date: January 16, 2004 2:01 PM
We'll be there. I can't wait to see the skin-tight burqas and buckle bunnies are wearing. This event must be creating quite a conundrum for Toby Keith.
-your pals at the Turnpike
To: homies@lawrence.com Subject: Stull Cemetary Date: December 21, 2003 4:12 PM
Concered person writing to tell you you are full of it. I personally traveled to Stull fake cemetary and was not I'm impressed one bit the gate was wide open and nobody was gardening and we walked around the church ruins and looked for the tombstones that you reported that is there and not a single shred of evidence to support your claim that the devil appears there twice a year. In fact we even climbed over the rubble looking for the scary staircase going down. The only thing obvious to me was that there have been lots of people tampering with people who should be allowed to rest in piece!!!!!!!!!!!!!! We have seen taht your stories about this haunted cemetary is that you hve way to much free time to think up stupid stories to broad cast over the net. YOU ARE A FAKE AND PHONY LIAR. Some of us really to research information like this in fact the people of Stull are very friendly and helped us with our directions.
From: homies@lawrence.com Subject: Re: Stull Cemetary Date: January 16, 2004 3:01 PM
Wow, you seem really pissed. Or should we say possissed.
To: homies@lawrence.com Subject: Atchison Date: December 29, 2003 3:12 PM
I am looking for a list of dates and things to do in Atchison, KS. Thank you send it to my email address.
From: homies@lawrence.com Subject: Re: Atchison Date: January 16, 2004 2:01 PM
Here's your list of dates:
Maisy Dunbar
Lisa Hayes
Fran Linklater
Alan Anchorage
Donita Lum
Henry Zorn
Rupert Hornish
Candee (Deelee) Lee
Katy George
Tim S. Spacefiller
Lincoln Fargo
Rafe Dornick
Tyler Fitzgerald
Billy Rubin
Sylvester Marcus
As far as things to do, the Dairy Queen in Atchison is a Braizer!
We hope this helps.
Top websites of the week
Squidge The finest source of homoerotic hobbit art that we've found. Not for homophobes.