On Deck
...wherein we listen to what Lawrence's movers and shakers are moving and shaking. to.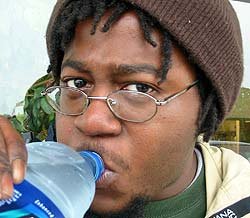 RJD2, "Since we last Spoke"
Sade, "Lovers Rock"
Herbie Hancock, "Head Hunters"
Mos Def, "New Danger"
Saul Williams, "Saul Williams"
Bound Up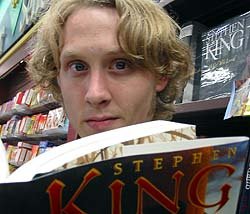 Currently reading: "The Dark Tower" (2004) by Stephen King -- This the seventh (and final) installment in Stephen King's "Dark Tower" series follows Roland and his "ka-tet" as they face off with mutants, vampires and the Crimson King en route to their long-awaited destination. "I'm not really a Stephen King fan anymore but I read him a lot as a kid and these books have carried over," Saathoff says. "Even though it's crap five-dollar-a-word writing with cliffhanger chapter endings and all that."
One book everyone should read: "Winesburg, OH" (1919) by Sherwood Anderson -- Like Edgar Lee Master's "Spoon River Anthology," Sherwood Anderson's masterwork "Winesburg, OH" offers a slice of life in a small Midwestern town through the eyes of its most peculiar residents. "They're the best short stories I've ever read in my life," Saathoff says. "They're totally heartbreaking - every sentence is like a paragraph."
Top email to lawrence.com
To: homies@lawrence.com Subject: Missing Paw Members Date: October 10, 2004 1:10 PM
Hello, i wonder if you guys can help me. I'm from England and i am the worlds biggest PAW fan. After their mini album Home is a Strange Place, i heard the band split up. Ever since, I 've been wondering what the band members (especially Mark hennessy and Grant Fitch) are up too. PAW are (in my eyes anyway) the greatest and most underated band EVER. If you could tell me what the guys are up to that would be brilliant. Thanks for taking the time to read this.
-Brad
From: homies@lawrence.com Subject: Re: Missing Paw Members Date: October 29, 2004 10:10 PM
We're afraid you've been misinformed. The greatest and most underrated band ever is Dexy's Midnight Runners.