On Deck
...wherein we listen to what Lawrence's movers and shakers are moving and shaking. to.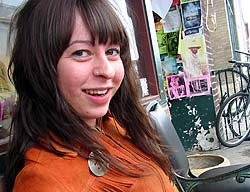 Nancy Sinatra, "Sugar"
Descendents, "Milo Goes To School"
T Rex, "Slider"
Beat Happening, "Black Only"
Bikini Kill, "Pussy Whipped"
Tubers
...wherein local TV connoisseurs intimate what keeps them on their couches.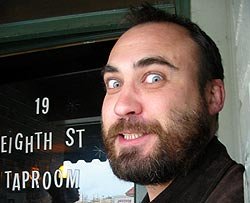 South Park -- "I just love Cartman. He's my little fat alter ego."
Everybody Loves Raymond -- "It's my favorite sitcom, and I love Patricia Heaton ... She's like the super-hot sitcom mom."
The West Wing -- "You really don't have to know shit about politics to watch it."
Top email to lawrence.com
To: homies@lawrence.com Subject: For weeks Date: October 28, 2004 6:10 PM
I have been tossing this paper out as a rehash of the "Urinal World"....today I took the time to read it....keep it up....its truly a www : witty, weird and wonderful...thanks, Katy O
From: homies@lawrence.com Subject: Re: For weeks Date: November 5, 2004 2:11 PM
Dear Katy. . .
Thanks for the kind words. To be honest, though, we're usually wasted, whimsical, and wasted. And also, in the interest of full disclosure, we're actually a rehash of www.urinal.net, and also a little bit Readers Digest and Boys Life.
- homies
To: homies@lawrence.com Subject: Job Op.? Date: October 19, 2004 4:10 PM
I am looking to move to Lawrence and was wondering if you had any jobs available. I have a degree in English, emphasizing creative writing and journalism, from the University of Missouri-Kansas City. I was the editor of the school paper and now work for The Pitch in Kansas City. Thank you. -Todd.
From: homies@lawrence.com Subject: Re: Job Op.? Date: November 5, 2004 2:11 PM
Hi Todd. . .
A few things to avoid mentioning when
seeking employment:
English degree, Missouri, The Pitch.
Glad we could help.
- homies
Top websites of the week
Angry Alien Productions Happily these adorable animated bunnies are still acting out their 30-second interpretations of feature films, their latest being "The Texas Chainsaw Massacre." Fuzzy and bloody.
Life/Death Clock A running clock documenting frequency between all sorts of deaths in California. Featured demises are: tobacco-related, doctors' mistakes, alcohol abuse, and of course, firearm homicide. Strangely absent are implant-related deaths.
Kim Jong Il (the illmatic)'s Journal Kim Jong-il's journal. Make sure to look at instant messenger transcripts. Despoterriffic!