On Deck
...wherein we listen to what Lawrence's movers and shakers are moving and shaking. to.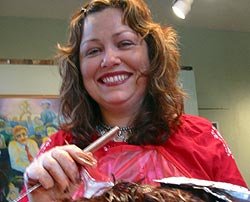 Holly Golightly - "God Don't Like It"
John Doe - "Dim Stars, Bright Sky"
Detroit Cobras - "Mink Rat or Rabbit"
T-Rex - "Tanx"
Talking Heads - Best of
Tubers
...wherein local TV connoisseurs intimate what keeps them on their couches.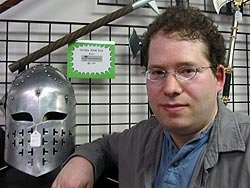 "Carnivale" (HBO) Part historical drama and part spiritual quest, this 12-episode dramatic series follows a traveling carnival and its mysterious characters through the Dust Bowl in 1934. "At the core it's a show of good and evil," Shainheit says. "It makes you think, 'How much of my life is based on fate instead of choice?'"
"Smallville" (The WB) The fourth season chronicling Clark Kent's awkward teenage years as he discovers his Superman powers. "He's from another planet and he's having difficulty relating," Shainheit says. "The characters are pretty solidly developed and it's humorous."
"Star Trek Enterprise" (UPN) A prequel to the original "Star Trek" series, "Star Trek: Enterprise" takes place during the early pioneering days of deep space exploration, 100 years before Capt. James T. Kirk takes the helm of the famous starship. "'Star Trek: The Next Generation' is what I judge everything else by," Shainheit says. "Do I find this Star Trek superior? No. I've missed a couple episodes on purpose."
Top email to lawrence.com
To: homies@lawrence.com Subject: Permission To Link To Your Site Date: November 13, 2004 1:11 AM
Hi, Its Daniel from rare- lyrics.com, lately I've been adding more information to our artist pages and I'm currently getting some quality r. kelly links for our visitors. Anyway, I've added your site to our r. kelly page. I would be very grateful if you would link back to us at rare- lyrics.com/r-Kelly. If you would like us to make any changes to your text link even if you decide not to link back or would like more linking information, please just reply and let us know. Regards, Daniel

From: homies@lawrence.com Subject: Re: Permission To Link To Your Site Date: November 19, 2004 3:11 AM
Dear Daniel. . .
As a relatively new website, you can imagine what a thrill it is for us to be given the opportunity to be associated with R. Kelly. We can't say we know too much about Mr. Kelly, but we've heard he does a lot of work with children. We sleep better knowing that R. Kelly is behind young people. Thanks again.
-homies
To: homies@lawrence.com Subject: Tabloid distribution Date: November 8, 2004 5:11 PM
Please do not deliver this publication to my home. I do not want anything attached to my front door. Thank you, Sidney

From: homies@lawrence.com Subject: Re: Tabloid distribution Date: November 19, 2004 3:11 AM
Dear Sydney. . .
No problem. Let it be known that lawrence.com prefers the back door anyway.
-homies
Top websites of the week
themorningnews.org Sometimes funny, sometimes poignant, sometimes insufferably literate, always current. Interviews, profiles, fiction, humor pieces, investigative journalism, rants, music reviews, personal essays, etc. In other words, anything a few left-wing New Yorkers feel they need to impose on you. But guess what? Even in the New World Order, you don't have to look at it.
dogtoyormaritalaid.com Sometimes funny, sometimes poignant, some - um, it's actually a quiz where you look at an object and guess if it's a dog toy or a marital aid. Harder (meaning more difficult) than you may think.
crimelibrary.com Court TV's database of every sicko, miscreant, wrongdoer, sinner, transgressor, rascal, scoundrel, villain, knave, rogue, bad man, blackguard, barrator, shyster, malfeasor, mischief-maker, and marplot ever to soil this mortal coil.