On Deck
...wherein we listen to what Lawrence's movers and shakers are moving and shaking. to.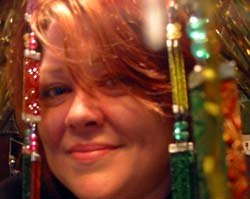 The Rocky Horror Picture Show soundtrack
Johnny Cash, "Country Legend"
Rod Stewart, "The Great American Songbook"
Erykah Badu, "Baduizm"
Beastie Boys, "Licensed to Ill"
Tubers
...wherein local TV connoisseurs intimate what keeps them on their couches.
World Wrestling Entertainment (WWE): The WWE is the 900-pound gorilla of wrestling -- the super-mega-corporate hell beast that resulted from the WCW/WWF merger. It's the easiest to find on TV (Spike and KCWE channel 17 have weekly installments) and also the easiest to gripe about with friends. Recent injuries to big names have forced the league to slow down the pace of matches and ratings are down recently, but the league throws in plenty of bikini-clad bimbos to compensate. "I try not to watch the T&A crap; I really watch it for the wresting," Kelly says. "I like it almost as a perfect antithesis to sport ... At least in wrestling, they're completely up front about putting on a show.'" Conclusions: Watch it if you're looking to waste some time but don't plan your life around it.
Total Nonstop Action Wrestling (TNA): Despite its titillating acronym, TNA is less about scantily clad bimbos and more about action-packed matches. The catch: TNA lacks the big-name stars of the WWE and gets a lot of the WWE toss-offs. Shows are also only hour long, but they can be seen every Friday at 3:00pm on Fox Sports Net (channel 51). "It's essentially really athletic wrestling and poor booking," Kelly says. "They book a lot of what they call in wrestling terms "squashes," which means the popular guy beats the no-name guy ... Those matches last like two minutes and then the main character gets the mic and babbles about how great he is." Conclusions: Give it a shot just because it's not the WWE.
Japanese Wrestling: Unlike in American wrestling leagues, the Japanese belt rarely changes hands. Feuds are built up for months on end and wrestlers pride themselves in building up anticipation and whipping audiences into a frenzy. Matches are longer and T&A is notably absent. The only problem is finding it. While you can order Japanese Hardcore Wrestling on pay-per-view ($14.95), Kelly recommends picking up some NOAH tapes from highspots.com for a more lasting experience. Conclusions: Screw the WWE and TNA -- head East to find the best wrestling on the market.
Top email to lawrence.com
To: homies@lawrence.com Subject: Dear LAWRENCE Date: October 6, 2004 10:10 AM
Hi My name is Chai male singer from Bangkok Looking for job as a singer or band to join a membership I Sing+Dance sang many style of Top Hits' covers from 70's / 80's / 90's / Hip Hop / R&B / Reggae / Pop / till today Hits' Had a professional work experience for 19 years of singing Have had the original album in 1993 You can visit my Resume' page with a little picture at www.resumes4executives.com /
myresume/188XXXX.doc If there's anykind of meditation that you like to discourse Please contact at [...]@yahoo.com Call : +XXX XXX XXXX
Soon as possible will be glad.
Thank you Sincerely.
From: homies@lawrence.com Subject: Re: Dear LAWRENCE Date: October 8, 2004 11:10 PM
Why do you go by "Chai" if your name is, according to your resume, Nithit Naruesorncharoneporn? If there was ever a name that projected star power, it's Nithit Naruesorncharoneporn. We can't stop saying it. Nithit Naruesorncharoneporn Nithit Naruesorncharoneporn Bo Bithit Naruesorncharoneporn, Banana Fanna Fo Fithit Naruesorncharoneporn, Me My Mo Mithit Naruesorncharoneporn - Nithit Naruesorncharoneporn. We will purchase a pet of some kind, and its name shall be Nithit Naruesorncharoneporn. Or possibly Chuck Naruesorncharoneporn, so when he does something bad we can say, "Dammit, Chuck Naruesorncharoneporn!" without tripping up over the extra syllables. Anyway, good luck.
-homies