On Deck
...wherein we listen to what Lawrence's movers and shakers are moving and shaking. to.
Jazz
Motown
Frank Sinatra
Toby Keith
Outkast
Tubers
...wherein local TV connoisseurs intimate what keeps them on their couches.
Law and Order (7pm weeknights on TNT, also check local listings) "I've kind of gotten addicted to it because (my husband) likes it ... Pretty much by the end of the first half of the show you know who the murderer is, and then the second half is trying to get a conviction."
BBC World News (10:00pm nightly on KTWU channel 11) "I really like it because it's unbiased compared to American news."
The Simpsons (5:30pm weeknights on KMCI channel 15, new season starts Oct. 31 at 7pm on FOX) "The library has the second or third year on DVD so we took that home a couple months ago ... I brought it back on time, of course."
Bound Up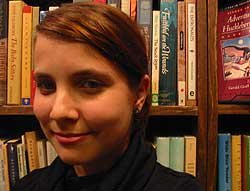 Currently reading: "Reading Lolita in Tehran" by Azar Nafisi -- What it's about: A memoir by an English teacher who taught at the University of Tehran during the Cultural Revolution in Iran. The book details her secret book club with female students who wanted to read Western Classics even though it was taboo for Iranian women to self-educate. Why you should read it: "I think it's pretty timely. I don't really know anything about life in Iran so I thought it would be interesting."
One book everyone should read: "1984" by George Orwell -- What it's about: George Orwell's dark vision of the future where life has become totally uniform and Big Brother lurks around every corner. Protagonist Winston Smith joins a secret revolutionary organization called The Brotherhood and risks his life to fight the powers that be. Why you should read it (again): "Especially now, it's such a relevant book, and I think George Orwell is such an eloquent writer," Orban says. "I think it will always apply to wherever there is political dissent ... I think there's a sense right now that if we don't want to go out and liberate people, we don't value democracy."
Top email to lawrence.com
To: homies@lawrence.com Subject: More Billy Q. Love Date: October 15, 2004 2:10 PM
Oh Dear God,
Where can I get the Billy Q. Album??? You say there are more songs out there somewhere??? I will pay any price. I must have them.
-Michaela
From: homies@lawrence.com Subject: Re: More Billy Q. Love Date: October 15, 2004 7:10 PM
Dear Michaela...
Fear not. "Bue Boy," the second single from Billy Q. Effinger, is now ready of thine appraisal at lawrence.com. But tarry not, fair maiden, for all magic, but its very nature, must be fleeting.