On Deck
...wherein we listen to what Lawrence's movers and shakers are moving and shaking. to.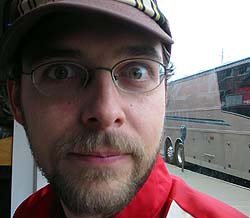 V/A, "Hot Women: Women Singers from the Torrid Regions of the World
D'Angelo, "Brown Sugar"
Tom Waits, "Frank's Wild Years"
Anita Sheer, "Flamenco"
Old Canes, "Early Morning Hymns"
Tubers
...wherein local TV connoisseurs intimate what keeps them on their couches.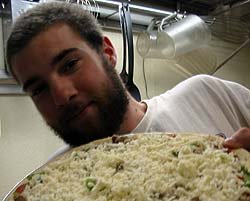 Baseball playoffs (Fox, evenings) "I just like watching really competitive baseball ... the players kind of turn on the intensity in the postseason," Geoff says. "A lot of them are just businessmen as opposed to competitive athletes, but they get money if they win the World Series, so it makes them play harder."
"Rescue Me" (FX) "I've always really like Dennis Leary so I started watching it ... It's kind of one of those action/drama soap opera-type shows -- it's pretty easy to get into," Geoff says. "I watched it a few weeks in a row before my cable got turned off. Now I don't know what's going on."
"The Surreal Life" (VH1) "I've caught a couple episodes ... well, maybe not," Geoff says, astutely reconsidering his decision to be associated with this particular show.
Top email to lawrence.com
To: homies@lawrence.com Subject: No Subject Date: October 19, 2004 12:10 AM
Dear Santa, you know I want for Christmas in the worse way is snow every winter in Dallas Texas please santa thank you santa from Robby.
From: homies@lawrence.com Subject: Re: No Subject Date: October 25, 2004 10:10 AM
Dear Robby...
We forwarded your touching email to (brace yourself) Santa! He had this to say:
Dear Robby, Ho ho ho. First of all, it's Halloween, dumbass! Secondly, I'll make it snow in Dallas when Dalls exports soemthing other than manure, tainted beef, trucker speed, and idiots. Maybe next year you should ask Santa for some punctuation. Ho ho ho. All kidding aside, Robby, you're in Dallas. Give up on snow. Give up on everything. Just give up. Consider your entire godforsaken state also santaforsaken, y'hear?
To: homies@lawrence.com Subject: Personals Date: October 21, 2004 12:10 AM
Where did this section go?
-Mike
From: homies@lawrence.com Subject: Re: Personals Date: October 24, 2004 11:10 AM
Dear Mike...
Our personals section met a single white Classified ad and left his wife and kis to take long moonlit walks on the beach and candlelight dinners.