On Deck
...wherein we listen to what Lawrence's movers and shakers are moving and shaking. to.
Black Keys, "Rubber Factory"
Sonic Youth, "Dirty"
XTC, "Skylarking"
Ghosty, "Grow Up or Sleep In" (unreleased)
Pete LaRoca, "Basra"
Tubers
...wherein local TV connoisseurs intimate what keeps them on their couches.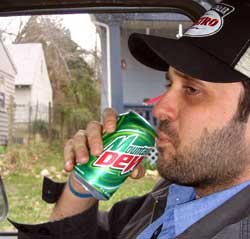 "Charlie Rose" "He always has French cuffs and his hair's always a little bit too long : It reminds me of my nephew's hair."
"The Starlet" "I like to feel a little sorry for the show and the people on it."
"What I Like About You" "That's one of those shows where, if I was watching it and anyone came over to the house, I would change the channel."
Bound Up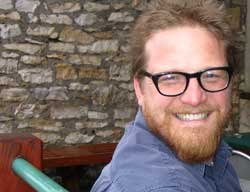 Currently reading: Occidental Mythology," by Joseph Campbell "It gives you a lot more insight into the prehistory of Christianity."
One book everyone should read: "Thus Spoke Zarathustra," by Friedrich Nietzsche "I think everybody needs to be challenged these days."
Top email to lawrence.com
To: homies@lawrence.com Subject: lawrence.com feedback Date: February 8, 2005 8:02 AM
Do you have a contact name , number, e-mail, etc. for Manheim Steamroller? I am with a Sioux City non-profit music series and we are trying to contact them with quesitons as to a possible performance. Thank you. -Jean

From: homies@lawrence.com Subject: Re: lawrence.com feedback Date: April 1, 2005 9:04 AM
Dear Jean. . .
402-457-4341
-homies

Top websites of the week
bier-rucksack.de The best thing ever in the world now has a website, and it has nothing to do with Charisma Carpenter or chaps.
fanfiction.net/u/368946/ A 14-year-old girl's fan fiction site. Awesome.
Top corrections from last issue
The calendar: The image of the superhero flying into the yonder mistakenly touted the Decemberists show happening on April 5th. It was meant to ballyhoo the SUPERHERO ART!!! show currently on display at hobbs.
The cover story: The "shows" box at the end of our "Good Guys" story boasted an erroneous occurrence. Those of you who went to the SUPERHERO ART!!! show hoping to view the premier of a feature-length film produced in Lawrence were sorely disappointed by the absence of such a film. We apologize for the extremely unsuperness of our gaffs. Must have been the kryptonite. Or the gin.