On Deck
...wherein we listen to what Lawrence's movers and shakers are moving and shaking. to.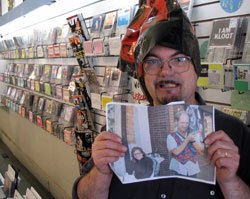 Libertines, "The Libertines"
Louis XIV, "The Best Little Secrets are Kept"
Mando Diao, "Hurricane Bar"
Jack O. & the Tearjerkers, "Don't Throw Your Love Away"
Joy Zipper, "American Whip"
Tubers
...wherein local TV connoisseurs intimate what keeps them on their couches.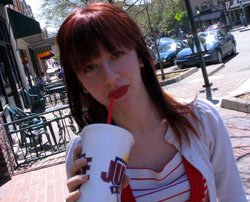 "American Idol" "I started watching because of my dad, and now I'm addicted. I told myself that would never happen."
"My Coolest Years: The Metalheads" "It's funny. Just these people talking about being really into metal when they were in high school."
"The Simple Life" "Paris and Nicole are idiots, but somehow I love watching them."
Bound Up
Currently reading: "The Amazing Adventures of Kavalier & Clay" by Michael Chabon "It's about people who write comic books for a living," Grunau says. "It was a really good summer read."
One book everyone should read: "The Partly Cloudy Patriot" by Sarah Vowell "She's an essayist; a lot like David Sedaris," Grunau says. "It's really informative in a non-schoolish, non-bookish way."
Top email to lawrence.com
To: homies@lawrence.com Subject: lawrence.com feedback Date: April 13, 2005 11:04 AM
Homies All,
Thank You, And Your Teams Too,
For The Good And Positive That You Do.
Found Out About You,
On, National Public Radio.
Please See Our,
"Saint Patricks Day Social Security Plan"
At http://vote2006.tripod.com/plan.html
And The Other Good Stuff Around The Site.
Thank You.
-John

From: homies@lawrence.com Subject: Re: lawrence.com feedback Date: April 18, 2005 10:04 AM
Dear John. . .
Thank you for the sweet poem. When we recite it, we like to say, "National Public Radi-oo."
It makes it rhyme better, and it sounds more homey. And thanks for the website link. The denim background is the perfect compliment to your barely concealed paranoid delusions and messianic fantasies, and we share your view that coming to some sort of point after 10,000 words would be too predictable. Thanks again.
-homies
Top websites of the week
airquee.co.uk/pub When we said the "beer rucksack" was the coolest thing ever, we didn't know about the inflatable pub. Now we do.
thetoiletonline.com An unmatched collocation of ideas and musings. Whether you're in need of Wrinkle-Free Horse Pants or a Singing Christopher Walken Head, this is the site for you. Currently online is "Meeting with the Olsen Twins," by Ralph W. Llama.