On Deck
...wherein we listen to what Lawrence's movers and shakers are moving and shaking. to.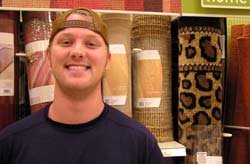 The Doors, "Legacy"
Yonder Mountain String Band, "Mountain Tricks"
Wu Tang Clan, "Greatest Hits"
A Tribe Called Quest, "The Low End Theory"
Mos Def / Talib Kweli, "Black Star"
Tubers
...wherein local TV connoisseurs intimate what keeps them on their couches.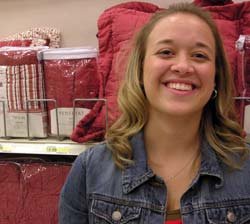 Laguna Beach "It's just one of those thing. I like all the drama."
Emeril Live "I like to watch him cook."
Elimidate "It's stupid. You just have to watch it."
Bound Up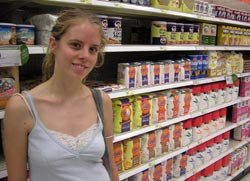 Currently reading: Lolita by Vladimir Nabokov "It's really good. I always thought it would be weird but a lot of my friends are reading it and it's really good."
One book everyone should read: Brave New World by Aldous Huxley "A lot of people ready 1984 but Brave New World is the opposite of that and it's about what democracy would be like if it kept going and got worse and worse. It's kind of creepy because it's really not that unbelievable."
Top email to lawrence.com
To: homies@lawrence.com Subject: i have a question for the homies Date: August 15, 2005 8:08 PM
How old do you have to be to rent a boat at the clinton lake marina? Also if there is a good website that you know of for the clinton lake marina that'd be cool too. Thanks.
From: homies@lawrence.com Subject: Re: i have a question for the homies Date: August 15, 2005 10:08 PM
If you're drunk enough, there's no age requirement to rent a "kanoo" from Uncle Tweaker's House o' Drownin' - which is actually just a psychotic drifter's pickup truck that's parked out there sometimes. As Uncle Tweaker always says - "Safty Frist." -homies
Top websites of the week
chucksconnection.com The internet home of the least comfortable footwear in the world. One-stop shopping for your next $45 pair of $15 shoes.