On Deck
...wherein we listen to what Lawrence's movers and shakers are moving and shaking. to.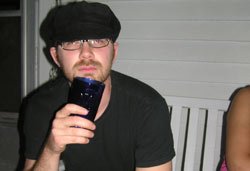 Depeche Mode, "Violator"
Frank Zappa, "Cruising with Ruben & Jets"
Outkast, "Stankonia"
Stevie Wonder, "Innervisions"
Beatles, "The White Album"
Tubers
...wherein local TV connoisseurs intimate what keeps them on their couches.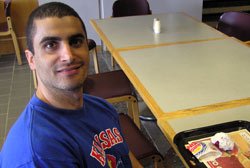 Laguna Beach - "It's getting interesting right now. The guys at work were talking about it and I started watching it."
Sports center - "I love Linda Cohn. She's an old woman, but she's really good at that."
Seinfeld - "I watch all the reruns because it puts me in a better mood."
Bound Up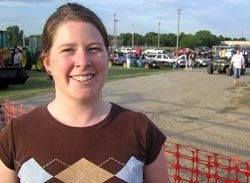 Currently reading: "Bhagavad Gita" - "It's sort of a picture into another spirituality."
One book everyone should read: "Atonement: A Novel" by Ian Mcewan- "It's just beautifully written. A wonderful story."
Top email to lawrence.com
To: homies@lawrence.com Subject: letter to the editor Date: August 22, 2005 11:08 AM
I was just wondering if you could have tickets on hold. I wanna take my friend to see engine down on wednesday but I want it to be a surprise. We'd have to travel from oklahoma so if it doesn't work than I don't want to have wasted the money. lemme know please!
From: homies@lawrence.com Subject: Re: letter to the editor Date: August 22, 2005 1:08 PM
To be honest, we were all confused by your letter. But then we remembered that Oklahoma is a state. Now we're just wondering what the hell you're talking about. -homies
To: homies@lawrence.com Subject: Site Feedback Date: May 17, 2005 8:05 AM
i'm interested in more on the museum and on a plate i bouhgt at auction THE ANDREW WYETH PLATE FOR GEORG JENSEN (THE KUERNER FARM 1971. thank you any info and id like to see museum on my vaction. thanks teri
From: homies@lawrence.com Subject: Re: Site Feedback Date: August 22, 2005 11:08 AM
Hi Teri. . . You're speaking, of course, of the 88-year-old realist painter from Chadds Ford, Penn., son of famed illustrator A.C. Wyeth. We're afraid you've wasted your money. The plate you're referring to has depreciated substantially in value since its exclusive creation for the Franklin Mint. As always, devotees of his particular style of derivative hacking find it wise to invest in the Andrew Wyeth line of Beanie Babies, as they continue to fetch four-figure sums at Sotheby's. -homies