On Deck
...wherein we listen to what Lawrence's movers and shakers are moving and shaking. to.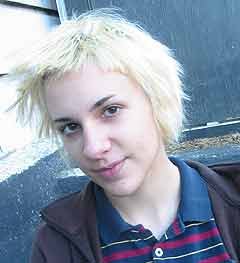 Dead Boys "We Have Come for Your Children"
Toy Dolls "Cheerio and Toodletip!"
The Adicts "Sound of Music"
The Vibrators "Energize"
Naked Aggression "Heard It All Before"
Tubers
...wherein local TV connoisseurs intimate what keeps them on their couches.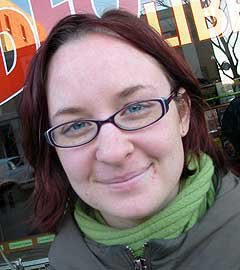 "The Daily Show" "It's smart and funny. And I don't get news channels."
"Six Feet Under" "I feel like all the characters are really identifiable, but I don't have a favorite."
"Making the Band " "There's something about mindless entertainment after studying for a while. And watching girls yell at each other."
Bound Up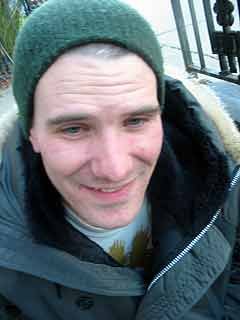 Currently reading: "Lord of Chaos" (The Wheel of Time, Book 6) by Robert Jordan "If you like (J.R.R.) Tolkien, it's the same type of thing but more reality based - interpersonal relationships and that kind of stuff."
One book everyone should read: "War All the Time: Poems 1981-1984" by Charles Bukowski "It's a collection of short stories from when he was addicted to horse-race betting. His viewpoint on life is so skewed. He's second only to Hunter S. Thompson as far as 'out there' goes."
Top email to lawrence.com
To: homies@lawrence.com Subject: Site feedback Date: December 14, 2005 3:12 PM
I need to redo this and then sucscribe again. The page I need to put the confermation number in gor earsed off my computer. -Alice
From: homies@lawrence.com Subject: Re: Site feedback Date: December 4, 2005 12:12 PM
For the life of us, we can't figure out why you're having trouble. -homies
Top websites of the week
Hats of Meat It's time to retire that old trucker hat. The folks at Hats of Meat have created a line of headwear that you'll be mad for. Stylish, juicy, and nicely marbled. It's a braised new world!
Random Chuck Norris Fact This site allows you to read and rate random "facts" about Chuck Norris. They are mostly crap, so it's advisable to go straight to the Top 30 index for gems like this one: "Chuck Norris' tears cure cancer. Too bad he has never cried."