On Deck
...wherein we listen to what Lawrence's movers and shakers are moving and shaking. to.
Dr. Hajime Murooka, "Lullaby From the Womb"
Kosmos, "Soundtracks of Eastern Germany's Adventures in Space"
Karlheinz Stockhausen, "Kontakte"
The Egyptian Lover,"One Track Mind"
Orchestral Manoeuvres In the Dark, "Dazzle Ships"
Tubers
...wherein local TV connoisseurs intimate what keeps them on their couches.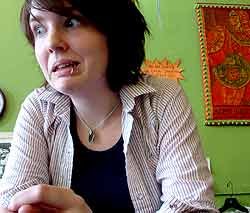 "Invader ZIM" DVDs Vol. 1-3 "It's brilliant," Charlton says. "The voices on the show are really funny ... there's all this messed-up portrayal of fast food."
"Buffy the Vampire Slayer" DVDs Vol. 1-7 "I own all seven," Charlton says. "People may say that it's not that good - they're missing out on hours and hours of amazing entertainment."
Aqua Teen Hunger Force (Cartoon Network) "I really don't think it makes much sense at all," Charlton says. "The special features are just them sitting around thinking of what could happen next, and you're just like, 'These guys are so weird.'"
Bound Up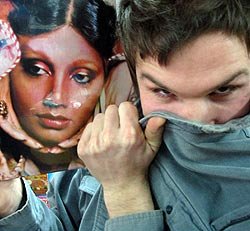 Currently reading: "A People's History of the United States" by Howard Zinn "It's a story that doesn't get told in our education system," Marable says. "It talks about some amazing Native American resistance movements that are completely ignored."
One book everyone should read: "Motel Chronicles" by Sam Shepard "Stories of the American west, growing up in the '50s, racing fast cars on dirt roads and hard-working men who are heavy drinkers and all that."