On Deck
...wherein we listen to what Lawrence's movers and shakers are moving and shaking. to.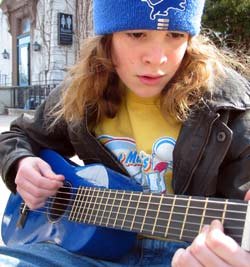 The Thermals, "More Parts Per Million"
Joe Strummer & the Mescaleros, "Streetcore"
The Libertines, "Up the Bracket"
"The Libertines" (self-titled)
"The Undertones" (self-titled)
Tubers
...wherein local TV connoisseurs intimate what keeps them on their couches.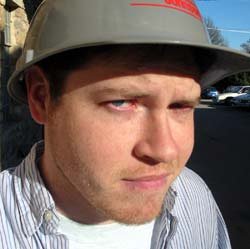 The Real World: Philadelphia" "It's unusual to see two characters on a show with really prominant white afros."
"Scare Tactics" "It's not as good because they replaced Shannon Doherty with Stephen Baldwin."
"American Idol" "I think I'm going to stop watching it now because the bad people are all done."
Bound Up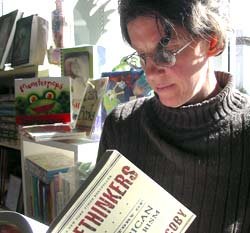 Currently reading: "Free Thinkers: A History of American Secularism" by Susan Jacoby "She's reminding us of the truth about the founders of our country; that they were not all of the ilk of Christianity that the current administration would have you believe."
One book everyone should read: "Moral Politics: How Liberals and Conservatives Think" by George Lakoff "It's helping progressives understand the Christian Fundamentalist mind ... there's two different sides that are essential for each side to understand."