On Deck
...wherein we listen to what Lawrence's movers and shakers are moving and shaking. to.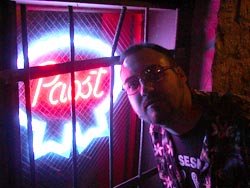 Doug Sahm, "Texas Tornado"
Wilco, "A Ghost is Born"
Neil Young, "On the Beach"
Eleni Mandel, "Wishbone"
Tom Waits, "Closing Time"
Bound Up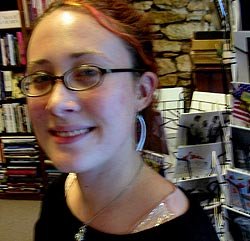 Currently reading: "Diary" by Chuck Palahniuk The author who brought you "Fight Club" and "Choke" delves into the complex and tortured world of artist Misty Marie Kleinman, whose husband lies in a coma after attempting suicide. Mistydiscovers her husband has been hiding rooms in houses he's remodeled and scrawling vile messages all over the walls. Then things get weird. "I like nonlinear storytelling a lot," Bolan says. "(The book) has a lot of medically graphic info on how people's faces work and stuff like that ... he seems to do his research before he writes."
One book everyone should read: "The Woman Warrior: Memoirs of a Girlhood Among Ghosts" by Maxine Hong Kingston Maxine Hong Kingston's memoir distills the lessons of her mother's mesmerizing tales of a China where girls are worthless, tradition is exalted and only a strong, wily woman can scratch her way upward. "It plays with how stories are woven into memory to create history," Bolan says. "Her mother and father told her many stories she couldn't separate from reality as a child so she just took that as part of her history."
Top email to lawrence.com
To: homies@lawrence.com Subject: Abstract mp3 Date: January 5, 2005 3:01 PM
happy new years. I'm french artist,doing Electronic Music since 10 years ago I play bigbeat, electro, breackbeat, hip hop I want to know if U're will be interresting for streaming event, U can visit my website http://abstractweb.free.fr if U like the sound I will be ok to give U some tracks thank U -xavier
From: homies@lawrence.com Subject: Re: Abstract mp3 Date: January 7, 2005 8:01 PM
We've heard about you French and your "streaming events." Aucun merci.
-homies

To: homies@lawrence.com Subject: Lawrence.com feedback Date: December 21, 2004 1:12 PM
I am interested in the Moving Targets Walking Program. Could you please send information? Thank you. -Myrtle
From: homies@lawrence.com Subject: Re: Lawrence.com feedback Date: January 7, 2005 7:01 PM
Dear Myrtle. . .
For the answer to all our fitness questions we look to Johnson County and West Lawrence because of their large concentrations of warm-up suit wearers. Coincidentally, due to the high number of SUVs, they also have healthy chapters of the Moving Targets Walking program about which you're inquiring. You should be specific, however, when looking for a club, as there are also active chapters of Moving Targets Bicycling, Moving Targets Jogging, and Moving Targets Hopscotch-playing in the area. Hope this helps.
-homies