On Deck
...wherein we listen to what Lawrence's movers and shakers are moving and shaking. to.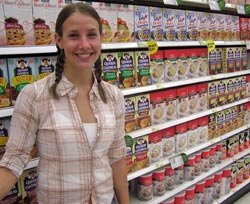 Beck, "Guero"
Wilco, "Yankee Hotel Foxtrot"
Ben Folds, "Songs for Silverman"
Grateful Dead, "Shakedown Street"
Jack Johnson, "In Between Dreams"
Tubers
...wherein local TV connoisseurs intimate what keeps them on their couches.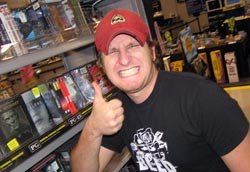 Conan - "I don't get cable so that's really the only thing I make an effort to see."
NBC News- "That's the clearest reception I get."
(lawrence.com is an equal opportunity interviewer, and does not discriminate against individuals suffering from cable deficiency - on the contrary, we applaud their bravery)
Bound Up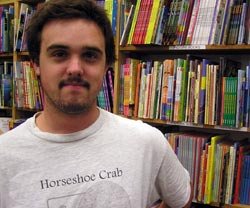 Currently reading: Harry Potter and the Sorcerer's Stone by J.K. Rowling - "Two days ago I read the whole thing. I had never ready any of them."
One book everyone should read: Ishmael by Daniel Quinn - "I've heard a lot of people recommend this book too, but it just offers a lot of insight on the way we treat animals and which way American society is going."
Top email to lawrence.com
To: homies@lawrence.com Subject: Content Edit Date: July 15, 2005 2:07 PM
On July 21st Boo and Boo Too are opening for Those Peabodys as opposed to Boo Boo. Please make the correction. Thanks.
From: homies@lawrence.com Subject: Re: Content Edit Date: July 22, 2005 2:07 PM
Sorry. Our, uh, gaffe.
To: homies@lawrence.com Subject: HELP Date: June 26, 2005 11:06 AM
HI MY NAME IS MIKE I LIVE IN WYANDOTTE COUNTY KANSAS. I WAS WONDERING WHAT KIND OF GRAPE IS BETTER JUST FOR SNACKING ON. I PERFER THE SWEET GREEN GRAPE. I GUESS THIS IS MY QUESTION. DO SWEET GREEN GRAPES GROW GOOD IN KANSAS AND IS THERE A SPECIAL SWEET GREEN GRAPE VARIETY. I JUST WANT THEM FOR SNACKING FOR MY WIFE AND KIDS. WE ARE GRAPE LOVERS.
THANK YOU FOR YOUR TIME AND HELP
-MICHAEL

From: homies@lawrence.com Subject: Re: HELP Date: July 8, 2005 7:07 PM
Hi MICHAEL. . ._WE'VE HEARD YOUR CRY FOR HELP - YOUR MOSTLY INSANE, VERY URGENTLY TYPED CRY FOR HELP. UNFORTUNATELY WE CAN'T HELP YOU. ONLY MR. GRAPE CAN HELP YOU NOW. -homies