On Deck
...wherein we listen to what Lawrence's movers and shakers are moving and shaking. to.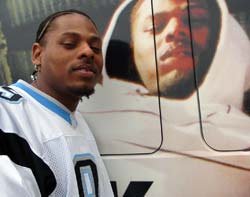 T.I., "Urban Legend"
2Pac, "Greatest Hits"
R. Kelly, "Happy People/U Saved Me"
Snoop Dogg, "Rhythm & Gangsta: The Masterpiece"
Young Buck, "Straight Outta Cashville"
Tubers
...wherein local TV connoisseurs intimate what keeps them on their couches.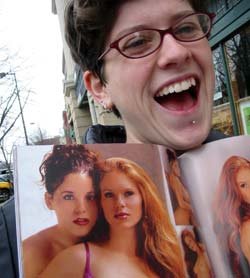 The People's Court "It puts people in their place when they're being ridiculous."
America's Next Hot Model "It's my guilty pleasure ... they get into all their little poses and it's totally hot."
The L-Word "I have people recording it so I can see it ... They don't have real butch characters on it yet but I'm hoping that they will."
Bound Up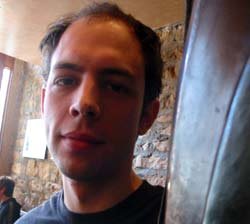 Currently reading: "Nadja" by Andre Breton "It's sort of one of the first surrealistic romances ... I'm not really sure what to expect."
One book everyone should read: "Raise High the Roof Beam, Carpenters and Seymour: An Introduction" by J.D. Salinger "It's basically about this family, very nostalgic ... it reads like an unfinished work but he's designed it that way."
Top email to lawrence.com
To: homies@lawrence.com Subject: lawrence.com feedback Date: February 24, 2005 10:02 AM
Please discontinue delivery of Lawrence.com Deadwood edition.
Thank you.
From: homies@lawrence.com Subject: Re: lawrence.com feedback Date: February 28, 2005 2:02 PM
In today's WiFi broadband internets society, media outlets such as the Deadwood Edition utilize a concept known as "convergence." Convergence enhances the consumer's experience by utilizing the relative strengths of each medium - print, broadcast, and the worldwide internets. As your leaders in customer service, we're happy to discontinue delivery of the Deadwood Edition to your home, along with your cable service, your internets connection, your daily newspaper, and your telephone. Your coupon circular will now accompany your Juggs Magazine subscription.
-homies
Top websites of the week
defamer.com Gossip gossip gossip. Consider this blog your Paris Hilton headquarters. Also look for their "New uses for old Baywatch stars," and even find out what Tom Berenger has been up to. Or don't.
exactitudes.com Inspired by a shared interest in the striking dress codes of various social groups.
vhemt.org "Voluntary human extinction is the humanitarian alternative to human disasters."