On Deck
...wherein we listen to what Lawrence's movers and shakers are moving and shaking. to.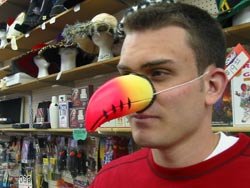 Louis Jordan, "Best of..."
Louis Jordan, "I Believe in Music"
Everly Brothers, "Best of..." 2 CD set
Kinks,"Kontroversy"
Kinks, "Something Else"
Tubers
...wherein local TV connoisseurs intimate what keeps them on their couches.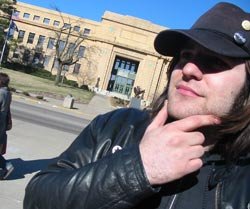 "Cheaters" "Real-life domestic violence caught on tape."
"The Steve Harvey Show" "I only watch TV in the afternoon and we don't have a remote."
"Judge Mathis" "He doesn't take crap from people. He tells it like it is."
Bound Up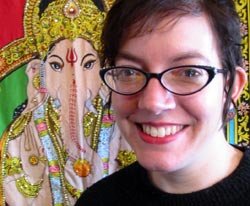 Currently reading: "Coming Home to Eat: The Pleasures and Politics of Local Foods" by Gary Paul Nabhan "It's about this guy who tries to see if he can only eat native foods for a year," Herring says. "That's one of my goals - to really be able to live and eat off the land."
One book everyone should read: "The Heart: Its History, Its Symbolism, Its Iconography and Its Diseases "I hunted for it for probably seven years," Herring says. "It just has incredible images and endless inspiration."
Top email to lawrence.com
To: homies@lawrence.com Subject: Letter to the editor Date: March 8, 2005 1:03 PM
I think the lot just East of the law enforcement center would make a great story. In LAWRENCE a parcel of LAND like that, I TRUST, would yield some interesting information if you just did some DIGGING.
-John

From: homies@lawrence.com Subject: Re: Letter to the editor Date: March 24, 2005 11:03 AM
Dear John. . .
We're not experts on such matters, so we consulted Scooby, Shaggy and the gang, who were unable to find anything of interest, even with the added incentive of Scooby Snacks. The meddling kids would like to point out, however, that your coded message reading LAWRENCE LAND TRUST DIGGING, combined with your resemblance to Don Knotts, has them nearly convinced that you did away with the owner of the haunted amusement park. And you almost got away with it, too.
-homies
To: homies@lawrence.com Subject: Letter to the editor Date: March 21, 2005 4:03 PM
We live in Hillsborough,N.C. very near Durham and Chapel Hill. Our lawn is being invaded with Chickweed. Someone told us to use Trimec now to kill the seeds before they start to make plants. I felt from what I read from you that fall is a better time. Could you please give me your expert advice. I would appreciate it so very much.
-Sick of Chickweed, Lillian
From: homies@lawrence.com Subject: Re: Letter to the editor Date: March 24, 2005 11:03 AM
Dear Lillian. . .
Sorry about the confusion, but our article that you're referring to was about ditchweed.
-homies