On Deck
...wherein we listen to what Lawrence's movers and shakers are moving and shaking. to.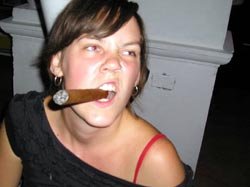 Neko Case, "Blacklisted"
Celia
Journey, "Greatest Hits"
Neil Young, "Harvest"
Patti Smith, "Horses"
Tubers
...wherein local TV connoisseurs intimate what keeps them on their couches.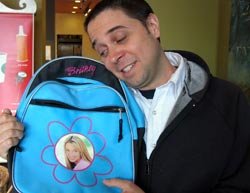 "Twin Peaks" Season 1 DVD
"Northern Exposure" Season 1 DVD "I lived in Seattle for ten years. : I lived in the town where they filmed 'Twin Peaks,' and we'd always go to visit Roslyn, which is just down the road, where they filmed "'Northern Exposure.' So I'm revisiting that."
"Dora the Explorer" "My kids like it, and it lets me watch 'Twin Peaks' while they watch 'Dora.'"
Bound Up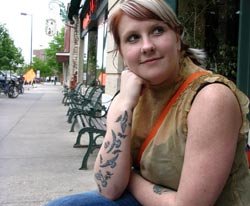 Currently reading: "Vineland" by Thomas Pynchon "I'm not that far into it. It gives me good imagery for tattoo ideas. That's pretty much it so far."
One book everyone should read: "The Days Run Away Like Wild Horses Over the Hills" by Charles Bukowski When I'm in a bad mood, he's so harsh it makes me feel better. I wanna go punch somebody in the face, but instead of punching somebody I can read this and it makes me feel like other people have the same feelings I do."