On Deck
...wherein we listen to what Lawrence's movers and shakers are moving and shaking. to.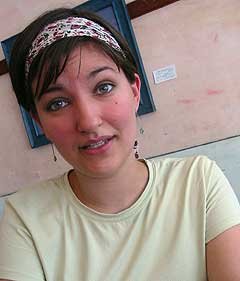 The Streets - "A Grand Don't Come for Free"
Mike Doughty - "Haughty Melodic"
Musiq - "Juslisen"
Stevie Wonder - "Talking Book"
Talib Kweli - "The Beautiful Struggle"
Tubers
...wherein local TV connoisseurs intimate what keeps them on their couches.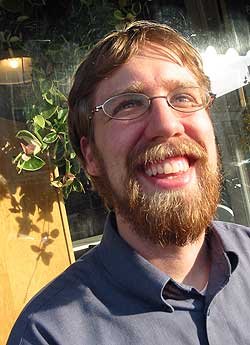 "Curb Your Enthusiasm" "As soon as it comes out on DVD, I will literally watch a season's worth of episodes in one or two sittings. I'm not going to get HBO just for one show."
"My Name is Earl" "It's a great little show. He's been a rotten human being all his life and now he's trying to make up for it."
"The O.C." "I tell people that I like it for very upstanding, kitschy reasons. But no - I really like it."
Bound Up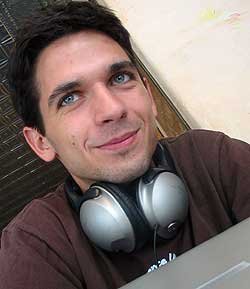 Currently reading: Wikipedia.org "Sometimes it can be difficult to trace your way back to what you were originally trying to learn, but what you learn on your little tangents can be just as fruitful."
One book everyone should read: "Candide" by Voltaire "I thought it was a very imaginative story."
Top email to lawrence.com
To: homies@lawrence.com Subject: about the film behind Date: October 13, 2005 11:10 AM
dear sir,
sorry to distrub you but i wouild like to know the song in the film when their plane were going to crash. i've been searching for the song for 1 year. please sir help me. i' m carzy about the song.
From: homies@lawrence.com Subject: Re: about the film behind Date: November 14, 2005 10:11 AM
All too rarely we hear of a quest so worthy, so unsung, that it simply cries out for attention. When we hear of such a quest we feel it is our duty as journalists to share it with our readership and, when we can, do our best to champion the cause. Yours is not one of those quests. You've wasted a year of your life. Sorry. Really so very sorry. And it's "Walking on Sunshine" by Katrina and the Waves, by the way. <br />
p.s. We don't know what carzy is, but if it's anything like crazy, you're most likely it.
Hope this helps.
-homies