On Deck
...wherein we listen to what Lawrence's movers and shakers are moving and shaking. to.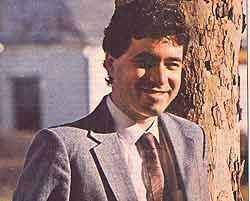 Slaid Cleaves, "Wishbones"
Kathleen Edwards, "Back to Me"
Neko Case, "Furnace Room Lullaby"
Los Super Seven, "Heard It On The X"
Bob Dylan, "Blood on the Tracks"
Tubers
...wherein local TV connoisseurs intimate what keeps them on their couches.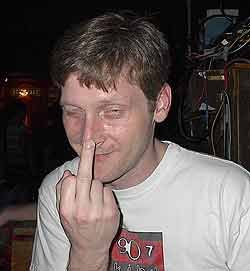 "Myth Busters" Any show that gets to blow so much stuff up while teaching people to think for themselves can't be bad.
"Antiques Roadshow" Gives me hope that if I keep crap long enough it will go up in value. Old stuff is cool.
"David Blaine Street Magic" To pull the head off a chicken is impressive, but to put it back on is something extraordinary.
Bound Up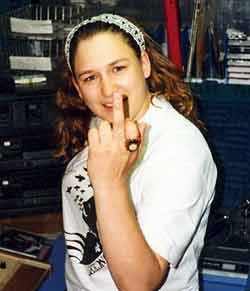 Currently reading: "Secret Life of Bees" by Sue Kidd "I just started it...it's a mother/daughter story."
One book everyone should read: "The Hitchhiker's Guide to the Galaxy" by Douglas Adams For expanding your mind I would recommend Hitchhiker's Guide. Otherwise "Me Talk Pretty One Day" because David Sedaris is amazing and hilarious.
Top email to lawrence.com
To: homies@lawrence.com Subject: ? Date: October 7, 2005 7:10 PM
Hello Editor!
Love the magazine but why does the online format suck so bad? Is it because I use safari browser? Anyway, don't always have the paper with me and would like to view the website more but don't think I will for awhile - too irritating. Will try another time...L

From: homies@lawrence.com Subject: Re: ? Date: October 9, 2005 8:10 AM
Aw, shucks. You really prefer our little rag to our esteemed website, the award-winning lawrence.com? You clearly have a taste for the finer things. If you can believe it, there are whippersnappers out there that actually enjoy the website, but we just remind those misguided youngsters of our unofficial motto: "Wiping with your laptop will void your warranty." Get it? Void. Damn, we're pretty AND have a sense of humor. Yep, we're quite a catch.