On Deck
...wherein we listen to what Lawrence's movers and shakers are moving and shaking. to.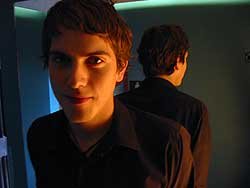 Archers of Loaf, "Icky Mettle"
Sun Ra, "A Joyful Noise"
Fennesz, "Endless Summer"
CAN, "Cannibalism"
Yellow Magic Orchestra, "Xoo Multiplies"
Tubers
...wherein local TV connoisseurs intimate what keeps them on their couches.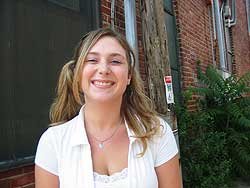 "Nip/Tuck" (FX) "I'm anxiously awaiting the third season on Sept. 26. It's a Free State show of choice ... we take turns taping it for each other."
"Sex and the City" reruns "Two of my girlfriends and I get dressed up and go out for martinis and talk about men and shows and sex and life in general."
CNN "I'm a junkie...that is my wake up and go to be entertainment."
Bound Up
Currently reading: "Trout Fishing in America," by Richard Brautigan "I pick it up every now and again. I enjoy his strange metaphors and off-beat sense of humor. I needed a good laugh"
One book everyone should read: "Where the Wild Things Are," by Maurice Sendak "It's just goofy. It may have a deeper meaning, but if so it's escaped me."
Top email to lawrence.com
To: homies@lawrence.com Subject: Lawrence.com feedback Date: September 8, 2005 9:09 PM
Did anyone else notice Laura Bush on CNN today at the school in Mississippi? She didn't get the name of the hurricane right - she called it - Karina! Way to be with the little people Laura! -Ann
From: homies@lawrence.com Subject: Re: Lawrence.com feedback Date: September 12, 2005 10:09 AM
Our medical consultant tells us that inbreeding, combined with softening brain tissue resulting from never having held a job, can cause slurring of words, or, in this case, dropping of "T's." Lady Bush has since apologized for this gaffe, saying that "Karina was the name of a little poor girl that used to help around our stables until I had her fired and chased with pointy sticks for my own amusement. I later named an Arabian horse after her and had it beaten to death. I miss her so, and when I think of all the poor people in New Orleans who could be serving me gumbo or, like, letting me throw shoes at them, or whatever, she is in my thoughts. Hoo wee, I loves the gumbo." It takes a big woman to admit she's wrong, Ann. Speaking of big women, Barbara Bush has stood behind her daughter-in-law, saying, "Yes, gumbo is delicious." -homies