On Deck
...wherein we listen to what Lawrence's movers and shakers are moving and shaking. to.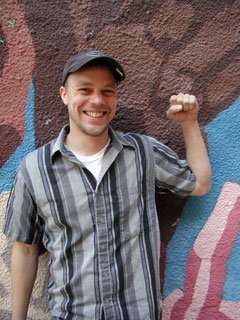 Ry Cooder, "Chicken Skin Music"
White Stripes, "Get Behind Me Satan"
Bob Brozeman & Hirayasu Takashi, "Jin Jin"
Budos Band, "The Proposition"
G Love & Special Sauce, "Philadelphonic"
Tubers
...wherein local TV connoisseurs intimate what keeps them on their couches.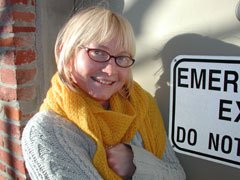 Aqua Teen Hunger Force On Adult Swim, Sunday nights. "It's about a floating, talking box of French fries, and a talking shake, and a talking meatball. They live next door to a human, in New Jersey. The talking food items annoy the neighbor. It's only 15 minutes long, but it's amazing."
Modern Marvels on the History Channel. "They find amazing new inventions and constructions and relate them to past prototypes. I like to learn sometimes when I'm watching TV."
CNN Headline News. "I like to be on top of current events-at least a little bit. I think every news station has its own bias, but CNN is better than Fox News."
Bound Up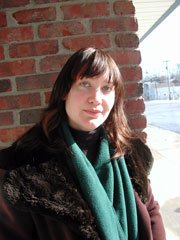 Currently reading: The Film Diaries of Richard E. Grant-Richard E. Grant "He's an actor from Great Britain who's been in several films I highly recommend (Henry and June, Withnail & I). It's his take on behind-the-scenes Hollywood. He's witty and acidic, with a great sense of language. He went to a sex shop with Hugh Grant and Elizabeth Hurley. It's an amusing read."
One book everyone should read: Hopscotch Julio Cortazar "It's like a book within a book. You read it once, and then start the book over-this time following cues to jump to different parts of the book to discover new revelations about the original story-hence "Hopscotch." It's about an Argentinean living in Paris."
Top 20 Sources of Energy Cleaner Than Coal
Wind
Solar
Nuclear
Hydrogen
Steam
Ethanol
Chinchilla
Despair
Cold Fusion
Methamphetamines
Al Gore's Bitching
Soylent Green
Gypsy Tears
Prayer
Rachael Ray
Junkies On Treadmills
White Guilt
Hardee's Thickburgers
Trash Fires
Polonium 210