On Deck
...wherein we listen to what Lawrence's movers and shakers are moving and shaking. to.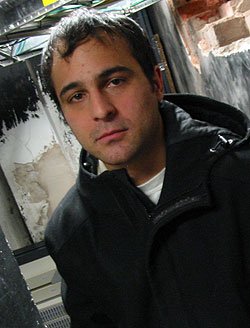 Slurring the Rhythms from "As the Eternal Cowboy," Against Me
Black is the Color from "The Red, White & Black," Bellrays
Guns on the Roof from "Give 'em Enough Rope," The Clash
Waking Up from "Elastica," Elastica
Burnin Love from "Elvis Sings Hits from His Movies, Vol. 1," Elvis Presley
Tubers
...wherein local TV connoisseurs intimate what keeps them on their couches.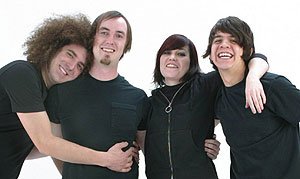 "Aqua Teen Hunger Force" "It's the most stupidest show, but like the best show ever. And every time they drop something it blows up."
"CSI" "You can't get ahold of Kim from 6-8 p.m. each day because that's what she's watching."
"Late Night with Conan O'Brien" "I love it when he does his cat impersonation and his random fits."
Bound Up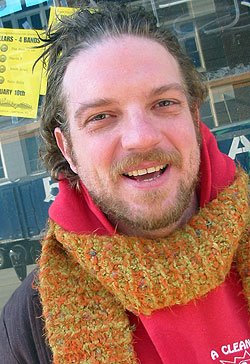 Currently reading: "Selected Poems" by Jorge Luis Borges "It will make your brain a better place to be in."
One book everyone should read: "The Collected Poems of Wallace Stevens" "He's probably the smartest guy that ever lived. He'll write a poem about a snowman that's also about God."
Top email to lawrence.com
To: homies@lawrence.com Subject: lawrence.com registration Date: December 28, 2005 11:12 PM
you didn't tell me what to do
From: homies@lawrence.com Subject: Re: lawrence.com registration Date: January 16, 2006 10:01 AM
Do not handle the mail piece or package suspected of contamination. If you sneeze or cough, do it into a tissue and then throw the tissue away. Consider a security freeze. Make this your home page. Know the Symptoms. Seek personal growth before financial growth. Think about your topic. Secure your winning ticket, temper your enthusiasm, and claim your prize within 180 calendar days. Get an unlisted phone number, post office box, security system, and advisory team. This should be a good start, but let us know if you run out of things to do.
Severed foot receives accolades
Esquire Magazine, America's most trusted news source, this week honored Lawrencian Ezekiel Rubottom in their annual "Most Dubious" awards. Rubottom, best known for his performance art piece, "Here's ma foot. It's in a bucket," won third place in the "Most Dubious Use of a Body Part" category, finishing below "Tom Cruise impregnating Katie Holmes" and the Wendy's finger-in-the-chili woman. Kudos!