On Deck
...wherein we listen to what Lawrence's movers and shakers are moving and shaking. to.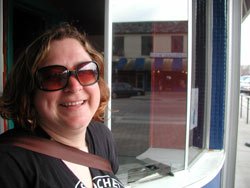 Rush, "A Farewell To Kings"
Yes, "Yesshows"
Miles Davis , "In A Silent Way"
The Decemberists, "The Crane Wife"
The Notorious B.I.G, "Ready to Die"
Tubers
...wherein local TV connoisseurs intimate what keeps them on their couches.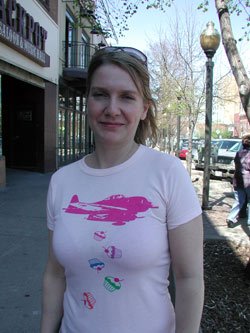 America's Next Top Model "I hate Tyra Banks. She's an idiot. She thinks she's going to be the next Oprah, and there's no way in hell that's going to happen. I guess I just love to hate her."
I Love New York "I think she's already dating one of the guys and it's all just an act. New York was a loser from Flava Flav's show. She's horrible."
The Hills "It's about well-to-do bratty kids in Orange County. It's a disgusting show. I like to watch bad TV because it's like getting a lobotomy for a couple of hours."
Bound Up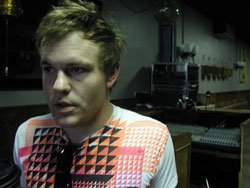 Currently reading: "A Man Without A Country," by Kurt Vonnegut "It has Vonnegut's classic sarcasm and cynicism. It's like a memoir, but only the way Vonnegut could do it. It's about his disappointment about the way this country has deteriorated over his lifetime. He proposes very humanist-type solutions. I've tried to read everything he's done."
One book everyone should read: "Letters from Earth," by Mark Twain. "I found this book in the last six months. It's very similar to the Vonnegut. Satan has been cast out of Heaven and banished to Earth. Satan sends letters to the archangels in Heaven, unbeknownst to JC and God. Twain has Satan telling his versions of biblical stories-more realistic and less metaphoric than the Bible."
Top 20 Runners Up For The Deadwood Derby
1, Band on the Rundle
2. The Chuck E Cheese Fire
3. TB on the Radio
4. Colonic o' Joel
5. ...And You Will Know Us By The Trail Of The Doritos Crumbs
6. Boog For Thought
7. Molested Mouse
8. God Fates Hags
9. The Novembertarianists
10. Man On Boyda Action
11. Mike Patton Farting On A Microphone
12. The Brownback Note
13. Horse Apples In Stereo
14. The Iraq Chalk Jayhawks
15. Clap Your Hands In Your Pants Say Ouch
16. LSD Nervous System
17. The Karl Rove Hip Hopera 5
18. Caucasian Emorexics With Facial Hair
19. Of Minneola
20. Bill Self Mutilation