On Deck
...wherein we listen to what Lawrence's movers and shakers are moving and shaking. to.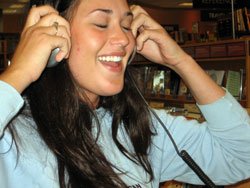 Michael Bolton (various singles on iPod)
Phil Collins (various singles on iPod)
Red Hot Chili Peppers, "Stadium Arcadium"
The Format, "Dog Problems"
Remy Zero (various singles on iPod)
Tubers
...wherein local TV connoisseurs intimate what keeps them on their couches.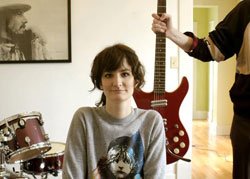 How I Met Your Mother "You should watch it because I told you Charlie Sheen is in it, but he's not."
Dr. Phil "He's got the best advice ever. I think I could probably say the same things though."
Oprah "I really like how charismatic she is. I mean, 'Friends' came and went, but Oprah's been around longer than me."
Bound Up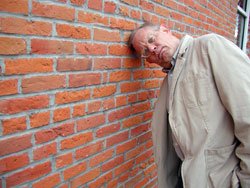 Currently reading: "The Jasons: The Secret History of Science's Postwar Elite," by Ann Finkbeiner It's a top-secret group of the very best minds in American science-physics, mainly. Politically independent-they choose their own members. They are not scientific advisors, per se. They formed in 1960 and continue to this day. They discuss and study highly technical questions pertinent to national security and the defense of the United States. It's very well written, and balanced. Obviously, there is some moral ambiguity around many of the Jasons' work products.
One book everyone should read: "Proust," by Samuel Beckett It was published in 1931-I think it was Beckett's first published writing. It is an existential look at life and memory, between the poles of Habit and Change. The habitual is security, but boredom; the changing is exhilarating but dangerous.
Top 20 Nicknames For Don Imus (in the style of his own "satire," of course)
1. Nappy Headed Blow Fiend
2. Grand Wizard of Id
3. Anus In the Morning
4. Don Ho
5. Arsenic and Old Racist
6. Dick Jockey
7. Don of the Dead
8. I, Bigot
9. KKKoke Head
10. Rumple Foreskin
11. Old Man Liver
12. Flaccido Domingo
13. Misogyny Loves Company
14. Kaiser Wrinkles Von Hate Speech
15. Coot In Mouth Disease
16. Slur Burger
17. Geezer Burn
18. Geriatric Curl
19. I-mess In His Diaper
20. That Impotent Drunk Who's Not Funny