On Deck
...wherein we listen to what Lawrence's movers and shakers are moving and shaking. to.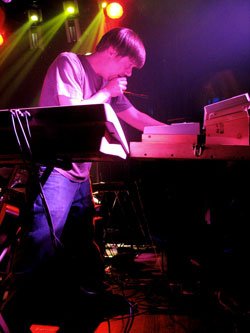 Andrew Bird, "Armchair Apocrypha"
Blonde Redhead, "23"
Deerhoof, "Friend Opportunity"
Tin Hat Trio, "The Sad Machinery Of Spring"
Various NPR Podcasts (A horrible addiction of mine that inhibits my music listening. Why do I care so much about hearing Car Talk's "Call of the Week
Tubers
...wherein local TV connoisseurs intimate what keeps them on their couches.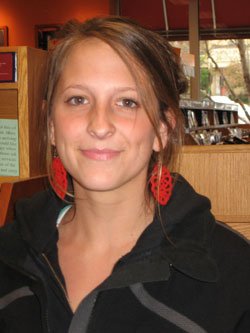 "THE DEADLIEST CATCH" "I'm very big into Discovery Channel. It's kind of gross-sea fishing-but they're pretty impressive people. They go through some hellacious weather."
"DIRTY JOBS" "I'm very attracted to the host. And I didn't know these jobs existed. I didn't know people had to blow up rocks to move land."
"GREY'S ANATOMY" "It's family time for our house. I like the music. And I enjoy Patrick."
Bound Up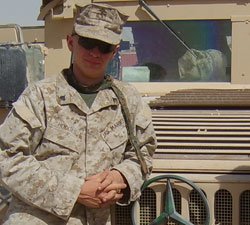 Currently reading: "American Gods," by Neil Gaiman "It's a road trip book featuring an ex-con and an aging Norse God. They travel through the American psyche. I'm rather enjoying it."
One book everyone should read: "Oryx and Crake by Margaret Atwood. "From the back cover: '...a book that is at once a nightmarish revision of Genesis and an all-too-plausible postscript to the Apocalypse.' Couldn't have said it better myself."
Top 20 Places Being Considered for Hiding Cameras At The Wakarusa Festival
1. Parking lot
2. Camp grounds
3. Vendor tents
4. Hill overlooking festival grounds
5. Birdhouse
6. Electrical box
7. Porta-poty
8. VW van with tinted windows
9. Hacky sack
10. Slice of pizza
11. Bowl
12. Inside of another camera
13. Dealer's tattoo
14. Squirrel
15. Moon
16. Ben Harper's afro
17. Floating, two-headed dragon made of lollipops who tastes like colors
18. The water, man-the freakin' water
19. Les Claypool's big brown beaver
20. Your head