On Deck
...wherein we listen to what Lawrence's movers and shakers are moving and shaking. to.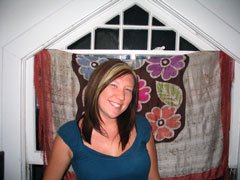 System of A Down, "Toxicity"
Regina Spektor, "Begin to Hope"
Amy Winehouse, "Back to Black"
The Descendants, "Somery"
Richard Cheese, "Lounge Against the Machine"
Tubers
...wherein local TV connoisseurs intimate what keeps them on their couches.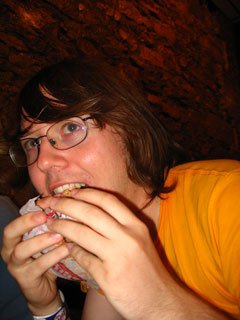 "Cash Cab" "It's a great trivia game show, and you get to see annoying New Yorkers lose tons of money. The premise is you get into this special cab and lights go off. For however long it takes to get to your destination, you get trivia questions. It's fun."
"Monk" "It's about an O.C.D. detective in California played by Tony Shaloub-what's wrong with that?"
"Oz" "It's about a maximum security prison and gang wars. It's got some really great celebrities, like that one guy from 'Ghostbusters' and that other guy who's on Lost. Then there's that guy who's on '30 Rock' who plays Tina Fey's boyfriend."
Bound Up
Currently reading: "Tropic of Cancer," by Henry Miller "I love Anais Nin, and I thought I'd get the male version of that type of writing and genre. He's very crude and pornographic. In all honesty, and I'm not afraid to admit, that's part of the reason I wanted to read some Henry Miller. I read 'Delta of Venus' by Anais Nin, which is extremely erotic but written from the perspective of a woman. It's fantastic. 'Tropic of Cancer' is from a very extreme male point of view. It's slightly misogynistic and a hard read...he's very dry. He's kind of an asshole."
One book everyone should read: "Watership Down" by Richard Adams "It covers all of the important topics: courage, love, sacrifice, death, life and fighting for what's important. And it's about bunnies."
Top 20 Corrections From Last Week's Issue Regarding the Frequent Misuse of "Reign"
1. Reign in
2. Acid reign
3. Reigndeer
4. Walker, Texas Reignger
5. Migreign headache
6. Breign tumor
7. Treign wreck
8. Clogged dreign
9. Greign alcohol
10. Rough terreign
11. Insane in the membreign
12. Ireignian nuclear program
13. Quiche lorreign
14. Treigned in the lethal arts
15. Mission to Ureignus
16. Extreignious nipple
17. Treigned man-servant
18. Streigngers with candy
19. Creignial trepanning
20. Streigning patience with bad puns