On Deck
...wherein we listen to what Lawrence's movers and shakers are moving and shaking. to.
Usher, "8701"
Ja Rule, "Rule 3:36"
Usher, "Confessions"
Aleica Keys, "Songs in A Minor"
Usher, "My Way"
Tubers
...wherein local TV connoisseurs intimate what keeps them on their couches.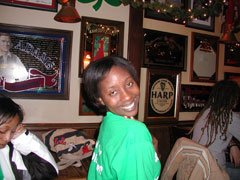 The Simpsons "It's an adult cartoon. I like it because it's funny and it's been on forever."
Family Guy "It's another adult cartoon. It's a little more adult than 'The Simpsons.' I love it because it's funny and it's inappropriate-and I'm in college, so I'm supposed to like inappropriate."
CSI "I loves the original-Las Vegas all the way. Gil Grissom and Warrick! Warrick is fine. That's why I like it, because Warrick is hot. I love all the gory special effects, not to mention that if I ever want to commit a murder I want to know how to get away with it. If you try to kill us tonight, I'll use my 'CSI' skills to hunt you down!"
Bound Up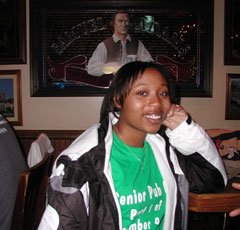 Currently reading: "Chicken Soup for the College Soul: Inspiring and Humorous Stories About College" by Jack Canfield "Basically, it's just giving you the down-low on college life and what you're going to go through. I don't find it very useful because I'm a senior. It's more targeted towards freshmen."
One book everyone should read: "Confessions of a Video Vixen" by Karrine Steffans "It's about this girl that used to be a model in music videos, now she's telling everybody what happened. She talks a lot about the famous people she slept with, like Irv Gotti and Ja Rule. It's just a good book-you're not going to get any deeper meaning out of it."
Top 20 Plagues That Will Probably Kill Us Before 2012
1. Boils
2. Wii elbow
3. Blood
4. Ultimate fighting
5. Flies
6. Winged marmots
7. Hail
8. Frosted Donettes by Hostess
9. Diseased animals
10. Ryan Seacrests
11. Locusts
12. Miley Cyrus albums
13. Darkness
14. Tyra Banks' vajayjay
15. Death of the first born
16. "According to Jim"
17. Frogs
18. Bush twins
19. Lice
20. President Giuliani
Naked Data
Estimated net worth of presidential candidate Mitt Romney (the highest among the candidates): $190-$250 million
Of John Edwards: $29.5 million
Of Rudy Giuliani: $18.1-$70.4 million
Of John McCain: $20.6-$32 million
Of Hillary Clinton: $10.1-$50.2 million
Of Fred Thompson: $2.6-$8.3 million
Of Barack Obama: at least $1.1 million
Of Mike Huckabee: less than $1 million
Contributions by Kansans to 2008 House, Senate and presidential candidates: $4,014,905
Percent given to Republicans: 69
To Democrats: 30
Amount raised by Jim Ryun when he lost his House seat to Nancy Boyda in 2006: $1,132,890
Raised by Boyda: $710,761
Amount raised by Boyda for the 2008 race: $546,646
Raised by Ryun: $777,492
Years ago, Jan. 1, the KU football team played in its first bowl game, losing 20-14 to Georgia Tech in the Orange Bowl: 60
Average age of the team, which included World War II veterans: 25
Years ago, Jan 1, KU played in its second and final (until Jan. 3) Orange Bowl game, losing 15-14 to Penn State: 39
Sources: U.S. Department of State, CNN, Center for Responsive Politics, kuhistory.com-compiled by Frank Tankard
Sonic Spectrum host Robert Moore's best albums of 2007
Jens Lekman/Night Falls Over Kortedala
Devendra Banhart/Smokey Rolls Down Thunder Canyon
Field Music/Tones Of Town
Eleni Mandell/Miracle Of Five
Various Artists/David Shrigley's Worried Noodles
Deerhoof/Friend Opportunity
Shocking Pinks/Shocking Pinks
The Magik Markers/Boss
Angels of Light/We Are Him
The Len Price 3/Rent A Crowd
RUNNERS UP
D*R*I/Smoke Rings
Grizzly Bear/Friend
Julie Doiron/Woke Myself Up
The Clientele/God Save The Clientele
Blonde Redhead/23
Electrelane/No Shouts No Calls
Arcade Fire/Neon Bible
The Apples In Stereo/New Magnetic Wonder
Loney, Dear/Loney, Noir
Arab Strap/Ten Years Of Tears
The Sea & Cake/Everybody
Band of Horses/Cease To Begin
Sunset Rubdown/Random Spirit Lover
Au Revoir Simone/The Bird of Music
The Drones/Custom Made
BRMC/Baby 81
Caribou/Andorra
Various Artists/First Blood
The Rosebuds/Night Of The Furies
Patti Smith/Twelve
Softee/Babies From The Lair
The Pedaljets/The Pedaljets
Sharon Jones & The Dap Kings/100 Days,100 Nights
Bat For Lashes/Fur & Gold
Dax Riggs/We Sing Of Only Blood Or Love
Jumbling Towers/Jumbling Towers