On Deck
...wherein we listen to what Lawrence's movers and shakers are moving and shaking. to.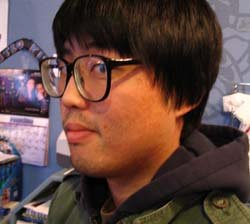 Menomena, "Friend or Foe"
Of Montreal, "Hissing Fauna..."
F*cked Up, "Singles Collection"
Hot Chip, "Warning"
various artists, "KJHK presents Farm Fresh Sounds"
Tubers
...wherein local TV connoisseurs intimate what keeps them on their couches.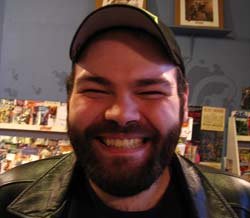 "Battlestar Galactica" "It's a very well done show. An intelligently told story, it has that in spades. I always hesitate to describe it as a "sci-fi" show, because it might turn people off to that and just because it's so well-written to doesn't need to be described like that."
"Weeds" "It's scathingly funny. And the writing on the show keeps me coming back for more."
"Venture Bros" "One of the best animated shows since The Simpsons. If you can catch every refrence to pop culture in a single viewing, you're the man. I keep watching because it just keeps getting weirder and weirder."
Bound Up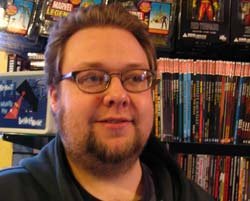 Currently reading: "Scalped," written by Jason Aaron; art by R.M. Guera "Crossing Midnight," written by Mike Carey; art by Jim Fern "These two are totally different and unique titles. "Crossing Midnight" is rooted in Japanese mythology, while "Scalped" is set on an Indian reservation. Jason Aaron is out of K.C."
One book everyone should read: "Fables," written by Bill Willingham "It's dramatic, yet not too over the top, or gross. The Aesop's Fables various characters are real and have to leave their native lands. They move into apartments in New York City and it's about them adapting to our world. It's really good."
Top 20 Activities For Single People on Valentine's Day
1. Laundry
2. Hit on operator at Match.com customer service
3. Buy rubber tubing and adult diapers
4. Organize toenail clippings
5. Share Lean Cuisine with blow-up doll
6. Testify against Scooter Libby
7. Weep uncontrollably
8. Thieve all cards from Hallmark displays
9. Root through ex's garbage
10. Secretly pray bad things happen to happy people
11. Mix schnapps and Drano
12. Go to strip joint with newly straight Ted Haggard
13. Lower standards
14. Speed date at homeless shelter
15. Claim paternity of Anna Nicole's daughter
16. Take Nintendo Wii into crawlspace, do things to it
17. Breath heavily on phone
18. Not bathe
19. Watch Battlestar Galactica, reflect on failed life
20. Shoot passing couples with pellet gun