On Deck
...wherein we listen to what Lawrence's movers and shakers are moving and shaking. to.
Do Make Say Think, "You, You're a History in Rust"
Menomena, "I Am the Fun Blame Monster!"
Arcade Fire, "Neon Bible"
Jack Kerouac, "Blues and Haikus"
Mum, "Finally We Are No One"
Tubers
...wherein local TV connoisseurs intimate what keeps them on their couches.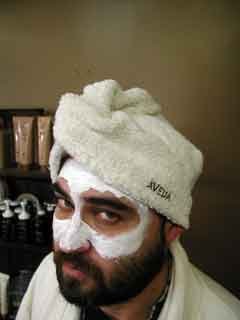 Modern Marvels "I watch a lot of History Channel. I like Modern Marvels. You know, there's always something very modern and very marvelous on."
The Real Housewives of Orange County "We call it 'The Real Desperate Orange Housewives'-my girlfriend got me going on that. The real beauty of that f*cked up show is that it's one thing when you're watching 18-year-old chicks who are totally empty and leading this totally surreal existence-but it's another thing entirely when you're watching 40-year-old women. It's like 'Come on, you should know better.' Between that and Modern Marvels you get pretty much everything you need."
Bound Up
Currently reading: "Black Boy," by Richard Wright "It's about the life of Richard Wright, about him growing up in the south and becoming a writer. It was recommended to me by a friend and it's very interesting. He didn't realize there was such a thing as racism until he met white people."
One book everyone should read: One Book Everyone Should Read: "The Freedom Writers Diary," by Erin Gruwell and the Freedom Writers "It's not a great book in how it's written, but there is a lot of meaning. It's about education, so I of course like it because that's what I'm studying."
Top 20 Other Confessions of Khalid Sheikh Mohammed
1. Plotted assassination attempt of President Rutherford B. Hayes
2. Took the last Bear Claw
3. Poured sugar in Cheney's gas-tank
4. Spoiled ending to "Little Miss Sunshine"
5. Is Dannielynn's real father
6. Cancelled "JAG"
7. Didn't tell Bush about Hurricane Katrina
8. Personally beheaded all of the dinosaurs
9. Knocked KU out of NCAA tournament for past 18 years
10. Ate Alberto Gonzales' homework
11. Is really mean to contestants on "American Idol"
12. Responsible for tragedy of "World Trade Center" movie
13. Is, in fact, Valerie Plame Wilson
14. Invented "super-cancer" in his mad scientist laboratory
15. Was shooting bottle rockets on the Hindenburg
16. Kinda caused that whole Iraq thing
17. Erased your "God of War II" data
18. Crucified Dale Earnhardt
19. Faked moon landing
20. Is pretty uncomfortable with that car battery attached to his nipples