On Deck
...wherein we listen to what Lawrence's movers and shakers are moving and shaking. to.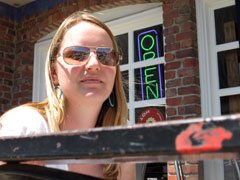 Slaid Cleaves, "Unsung"
Carrie Rodriguez, "Seven Angels on a Bicycle"
Corb Lund Band, "Short Native Grasses"
Drive-By Truckers, "Decoration Day"
Josh Ritter, "The Animal Year"
Tubers
...wherein local TV connoisseurs intimate what keeps them on their couches.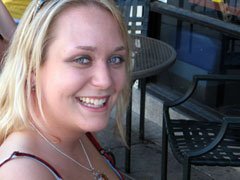 "The Office" Me and my roommates all watch a lot of TV on Thursday night. This is going to be a commercial for NBC. First, we watch The Office. I worked in a doctor's office, and I get how there's always that annoying coworker."
"Grey's Anatomy" It's a guilty pleasure. McDreamy and McSteamy. It's bad, but so good."
"October Road" It's a new show about a writer who went to college and Europe and had promised to come back to his small town. It ended up taking him ten years to come back, after he had written a book about their town and its people. A lot of them are angry at him.
Bound Up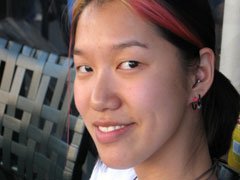 Currently reading: I just finished "The Tao of Pooh," by Benjamin Hoff. It's kind of like a guide on how to live your life, but you don't have to be religious to appreciate its message.
One book everyone should read: "One Hundred Years of Solitude," by Gabriel Garcia Marquez. It's about the way history repeats itself. The names repeat themselves throughout the novel, and people with the same names do similar things. It's about the movement of time."
Top 20 Moments of Queen Elizabeth's Shocking Behavior During Her Visit to the White House
1. Threw corgi at Dick Cheney's head
2. Called Bush twins "demon tarts"
3. Used fountain in Rose Garden as loo
4. Demanded horse drawn carriage pull into liquor store
5. Charged erotic massages to White House account
6. Labeled Canada "a bunch of beaver-loving traitors"
7. Bathed in tub filled with Colt 45 and stag blood
8. Referred to Alberto Gonzales as "that filthy Spaniard"
9. Chased cat up tree
10. Stole mini-soaps, Constitution
11. Only ate pre-chewed food directly out of Philip's mouth
12. Hissed like cobra at cameras, other technology
13. Repeatedly poked Karl Rove's waddle with royal scepter
14. Slept hanging upside down in Lincoln Bedroom
15. Insisted Condoleeza Rice renounce loyalty to Shaka Zulu
16. Strapped Barney to medieval doggie rack
17. Attempted to claim Laura Bush's ass as colony of Great Britain
18. Rode around on shoulders of deformed midget known only as "Wee Blair"
19. Put hex on Wolf Blitzer
20. Congratulated President Bush for reimposing a monarchy on "these wretched colonies"