On Deck
...wherein we listen to what Lawrence's movers and shakers are moving and shaking. to.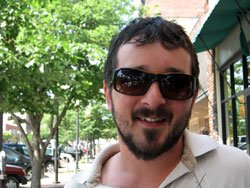 The Beatles, "Revolver"
Phish, "Rift"
Sound Tribe Sector 9, "Live at Blue Note"
Herbie Hancock, "Thrust"
The Rolling Stones, "Sticky Fingers
Tubers
...wherein local TV connoisseurs intimate what keeps them on their couches.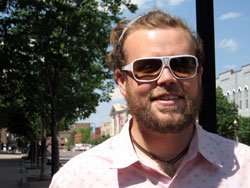 "Ultimate Fighting Championship" "It's like modern-day gladiators. Everyone's entertained with males fighting one another. Well, males are. I think most girls think of it as two people beating one another up-it's bloody and gory. But guys think about how that dude trained six months, or his whole life even, to perform for five minutes. It's not quite modern-day ninjas, but they're some of the most highly trained, well-rounded athletes."
"Major League Baseball" "My girlfriend's from Chicago. I like watching the Sox, wearing my shirt, showing a little love for the South Side. Everybody hates them."
Bound Up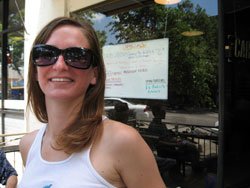 Currently reading: "Singular Pleasures," by Harry Mathews and Francesco Clemente "It's short little paragraphs about masturbation. It will set the scene-like, a 60-year-old woman in Sri Lanka walks into her kitchen and grabs her turkey baster."
One book everyone should read: "Lolita," by Vladimir Nabokov "I love his use of language. It's poetic, through the entire book."
Top 20 Potential Revenue Streams to Make Up For Lawrence's Budget Shortfall
1. Yak bellies
2. Mike Rundle telethon w/ special guests Wayne Newton and Kitt from "Knight Rider"
3. Cock fights
4. Change city name to "Amp'd Mobile Hooters-berg"
5. Sell able-bodied panhandlers for scientific research
6. Stop paving west Lawrence streets with tusk ivory
7. Legalize prostitution
8. Lure major league sports franchise to town (see No. 7)
9. Develop "Quantrill's Raid Floon Ride and Slave-o-coaster" theme park
10. Make corporations pay fair share of taxes (a.k.a., "crazy talk")
11. Drill for oil in Bob Dole
12. Sell Roy William's used tissues on eBay as "Religious Artifacts"
13. Sell water supply to Kansas City, drain Kaw river, have sex with own daughter (see "Chinatown")
14. Nacho and Miller Lite tax during basketball season
15. Monorail!
16. Sue Hack playing lots of Keno
17. Invest in bio-sciences, open Julian Wright cloning farm
18. Dome city, convert Lawrence to Mega Wal-Mart
19. Cut budgets for Disabled Puppy Orphanage, Hemophiliac Boy Scout Bible Camp, and Little Old Lady Cookies-for-Pills program
20. Create incentives for workforce and money to stay in Lawrence (a.k.a., "way f*ing insane talk")