On Deck
...wherein we listen to what Lawrence's movers and shakers are moving and shaking. to.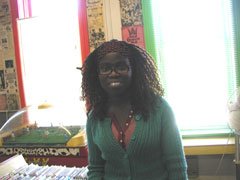 Amy Winehouse, "Back to Black"
Gil Scott-Heron, "The Revolution Will Not Be Televised"
Gorillaz, "Feel Good, Inc." & "Demon Days"
Nina Simone, "Anthology"
Kanye West, "The College Dropout"
Tubers
...wherein local TV connoisseurs intimate what keeps them on their couches.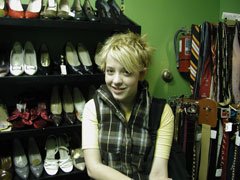 Miami Ink/L.A. Ink "They're about tattooing and, in the case of 'L.A. Ink,' follows this lady who opens a tattoo parlor. I like tattooing and have a few tattoos myself. They're all friends in the parlor and it's nice to see them interacting. I miss a lot of my high school friends, and 'L.A. Ink' is major girl time, so it reminds me a lot of my friends. Plus, they all have cool tattoos."
Rock of Love "It's this reality dating show where these girls compete to date this rock star-ex-rock star, actually. He's pretty gross and they're all really gorgeous but kind of trashy. I watch it for the drama and I'm kind of addicted. I saw an episode where this one girl, Sam-who was in Lawrence-got kicked off. She freaked out, cried, and I couldn't stop watching it after that. All our friends would come over and watch it and freak out during the commercial breaks. It's a good break from class, because during the week you don't want to party and this show lets you kill brain cells in a different way."
I Love New York 2 "It's just insane. This girl named New York-I don't know what her real name is-was on 'Flavor of Love' with Flavor Flav, but now she has her own dating show. The guy she picked from last season dumped her, so now she has a new season where she's trying to pick from a bunch of guys with silly nicknames. There's this midget who does cartwheels all the time and it's really ridiculous. A guy licked her feet last night, which was really gross. He was giving her a foot massage and then stuck her entire foot in his mouth. It was really nasty, but she liked it and gave him the big bling necklace, which means he won that episode. If my boyfriend did that I would go crazy-that's not sanitary."
Bound Up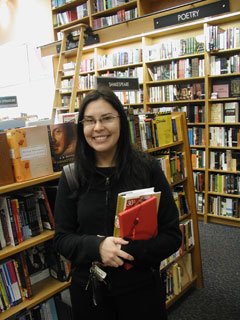 Currently reading: "Fair Game: My Life as a Spy, My Betrayal by the White House" by Valerie Plame "I just bought it. I'm interested in reading it because I heard an interview with her on the radio the other day about her troubles and her 'betrayal.' It sounds like it will be a very interesting book and I want to get her side of the story. I don't read political books much, but I did read Hillary Clinton's autobiography."
One book everyone should read: "Kansas Off the Beaten Path" by Patti DeLano "I'm getting it as a gift for somebody because we want to do some traveling in Kansas and find some unique places. It's a really good book for that. We're looking for stuff like the World's Biggest Ball of Twine, but I've never seen the prairie grass in spring, so we're also looking for stuff that's really beautiful on top of the odd stuff."
Naked Data
Number of mysterious smells investigated outside Lawrence Memorial Hospital last week: 1
Number of 55-gallon drums initially thought to be the culprit: 2
Minutes the main emergency room entrance was closed: 60 (approximately)
Final determination of source: unknown
What Fire & Medical Division Chief Bill Stark said: "We looked and we have lots of ideas, but : we just couldn't come up with one where we said, 'This is what caused it.' The fact is it's not been back since."
Year first cow was brought to Jamestown Colony: 1611
Year milk bottle was introduced: 1884
Year plastic milk container was first sold commercially: 1964
Average price for a gallon of 2% milk in Wichita in September: $3.80
In January: $2.91
Average price for a gallon of 2% milk in Kansas City in September: $4.12
In New Orleans (highest in the nation): $4.49
Percent by which New Orleans' average price this year ($4.14) exceeds the national average: 17
Top 20 Things You Shouldn't Hand Out To Trick Or Treaters
1. Ruger semi-automatics
2. National Intelligence Estimate
3. Vicodin and Woodchuck smoothies
4. Evidence from your public indecency trial
5. Relationship advice
6. The clap
7. Soiled clothes and directions to laundromat
8. Dead hearing aid batteries
9. Leaking mercury thermometers
10. Ham hocks
11. Purple nurples
12. Boiling tar
13. Live donkey
14. Chunks of dead donkey
15. "I Now Pronounce You Chuck and Larry" DVDs
16. Dumpster preemies
17. FEMA trailer
18. Insider trading stock tips
19. Waterboarding
20. Raisins...I mean, seriously