On Deck
...wherein we listen to what Lawrence's movers and shakers are moving and shaking. to.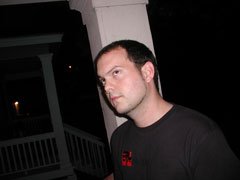 Failure, "Fantastic Planet"
Molly McGuire, "Lime"
Angels and Airwaves, "We Don't Need to Whisper"
Shiner, "Starless"
The Bubble Boys, "Bitter Is Better"
Tubers
...wherein local TV connoisseurs intimate what keeps them on their couches.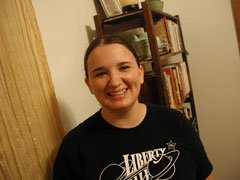 "Flight of the Conchords" "It's about these two New Zealand guys who have a band, and from time to time they break from the story to do a little music video. 'Business Time' is the best. There's another one where they dress up as 'Lord of the Rings' characters. I purposefully got HBO for that show. It is just absolutely hilarious."
"Deadwood" "It's about Deadwood, South Dakota, during the wild west period. I love the character of Al Sweringen and the fight scenes, especially the one where the guy pokes an eyeball out. That was awesome. I don't normally like fight scenes, but that was just really cool. I love Calamity Jane, too. Lesbian cowgirls-what's not to like?"
"The Office" "I like Steve Carell, who plays Michael, the annoying but funny boss. I like the whole romantic triangle aspect between Jim-who I think is cute-Pam and her husband. It's really funny."
Bound Up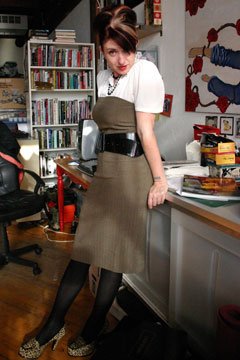 Currently reading: "Casanova Vol. 1: Luxuria," by Matt Fraction and Gabriel Ba "It's a book from Image Comics written by Matt Fraction, local KC author. I was attracted to the gorgeous, gorgeous art. It's like James Bond meets Barbarella and they have a love child that does a lot of drugs. It's really crazy awesome. If you love old-style spy books, you'll love 'Casanova.'"
One book everyone should read: "Fun Home: A Family Tragicomic," by Allison Bechdel "I think really she took the genre of comics and pushed it. A lot of people have read memoirs, and a lot of people have read comics that are memoir-based, but she really took it and made it an emotional experience. It has an amazing story, amazing art-she's just one of my heroes. It's autobiographical and it's her coming out story, her realizing that she's gay. But when she starts thinking about it, she realizes that her father has also always been gay even though he was very closeted. It's the story of her growing up with her closeted gay father in a funeral home that they converted to a house. It's really good. She's more known for her weekly comic, 'Dykes To Watch Out For,' but 'Fun Home' won Time's Book of the Year in 2006-not Comic Book of the Year, but Book of the Year."
Top 20 Rejected Titles For Our Medical Marijuana Story
1. Green Medicine
2. Skunked
3. Doobie Doctors
4. Joint Pain
5. Tokin' of my Esteem
6. Chronic Illness
7. Cruel Toke
8. Doctor's Reeferal
9. Reefered by a Doctor
10. Short End of the Joint
11. Sick and Bong
12. Bong Arm of the Law
13. In the Weeds
14. Doped Up
15. Doobieous Medical Practices
16. Ruptured Spleef
17. The Killing Toke
18. Colostomy Schwag
19. Bowlistic Healing
20. The Needle and the Doobage Done