On Deck
...wherein we listen to what Lawrence's movers and shakers are moving and shaking. to.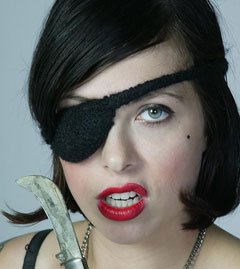 The Sir Douglas Quintet, "Mendocino"
Bessie Smith, "Greatest Hits"
Etta James, "Come A Little Closer"
Nina Simone, "The Essential Nina Simone"
Bob Dylan, "Nashville Skyline"
Tubers
...wherein local TV connoisseurs intimate what keeps them on their couches.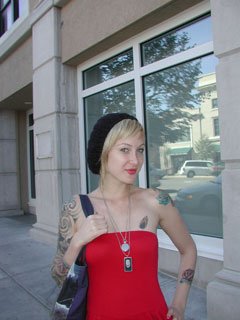 "Curb Your Enthusiasm" "It's about the writer of 'Seinfeld' and what he goes through every day. He's hilarious and he always gets himself into trouble with the things he says. He reminds me of my dad a little bit."
"Arrested Development" "It's kind of similar to 'Curb Your Enthusiasm' with the same dry, deadpan humor. It's about a family with a lot of problems and they're all jealous and they all hate each other. My favorite character is George Michael. He's adorable and he's in 'Superbad' now. He is so hilarious, that little kid."
"Rock of Love with Bret Michaels" "Basically it's a dating show like 'Flavor of Love' and those other reality TV shows on VH1. It started out with 26 girls vying for Bret Michaels' attention and he picks which girls he wants to go on a date with after these challenges. It's funny and hilarious how all of the girls have different personalities and how we get along-and how we don't get along is very amusing. Being on the show, honestly, sucked. I hated it. It was really hard for me with all of the cameras in my face all of the time. I'm a very private person and my privacy was totally invaded, and eventually I was like 'Get me out of here.' I talked with the producers and told them I don't want to be here anymore. Reality TV is not for me. My friend had me audition since they knew I did a lot modeling and acting. I figured, 'Why not?' I was just out of college and single at the time, and thought I'd meet some washed-up rock-star dude-I tried out and got the job."
Bound Up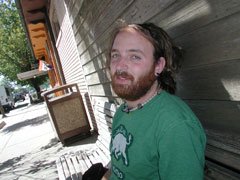 Currently reading: "The Dharma Bums" by Jack Kerouac "As per what I'm reading, I'm kind of a wanderer. 'The Dharma Bums' is about two people wandering around the country and they find Buddhism. Their reason for traveling is to find meaning. It's kind of autobiographical. I've read it before, but I wanted to read it again. I couldn't find it used so I bought a new one for $15."
One book everyone should read: "On the Road" by Jack Kerouac "It's basically about his life as a beat poet, and it has the same premise of 'The Dharma Bums,' but I think it's more of a true story about him. He traveled from New York to San Fran, and on around to New Mexico. It sparks my interest because that's what I'm into, but I don't know why other people should read it. I've been wandering since I was 13, so it collaborates with my life."
Top email to lawrence.com
To: homies@lawrence.com Subject: you SUCK Date: September 15, 2007 9:09 AM
Yeah, your movie listings SUCK, too difficult and hard read. It was great and now it SUCKS
From: homies@lawrence.com Subject: Re: you SUCK Date: September 15, 2007 9:09 AM
Dear Frank,
We completely agree. Although we've had surprisingly little negative feedback on our nigh unusable movie listings, we've decided that, for the common good, we will abandon our "list" format. Showing the movie titles in bold with the rating and show times, along with a link to the individual movie synopses and reviews, isn't doing anyone any favors. We have opted instead to go with the much more intuitive "Will Ferrell-based" system, wherein only movies starring Will Ferrell will be listed by title. For your convenience, all other films will be listed alphabetically according to the gaffer's first name, and any pertinent information will be found on that person's personal MySpace page. For example, the film "3:10 to Yuma" will now be referenced under "Cory." We hope this move proves our dedication to tailoring our website to those without even the most fundamental cognitive capabilities.
<strong>-homies</strong>
Top 20 rejected headlines for this week's cover story
1. The Art Land
2. Weaver Dream
3. One to Check The Weaver
4. Leave It to Weaver
5. The Weaving Process
6. Weave of Absence
7. Take Weave of Your Senses
8. I'm Weaving You
9. Don't Fear the Weaver
10. Dream Weaver
11. Tight Knit Community
12. Knit For Brains
13. Knitting the Books
14. I Knit On Your Grave
15. Quilty Conscience
16. Quilt Ridden
17. Quilt to Spill
18. Back to Wool Special
19. Wools Errand
20. Wool and the Gang