On Deck
...wherein we listen to what Lawrence's movers and shakers are moving and shaking. to.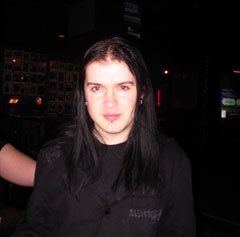 Angelspit, "Krankhaus"
Combichrist, "What the F*ck is Wrong With You People?"
VNV Nation, "Matter and Form"
Zombie Girl, "Blood, Brains and Rock 'n Roll"
Collide, "Chasing the Ghost"
Tubers
...wherein local TV connoisseurs intimate what keeps them on their couches.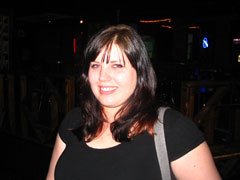 America's Next Top Model "It's a competition show for girls who want to get into the world of modeling, hosted by Tyra Banks-who's crazy. There's a model that I'm rooting for, her name is Claire. The reason I'm rooting for her is that she showed up to the competition with half her head shaved, and I was like, 'You go!'"
Kyle XY "It's a show on ABC Family. It's about a kid with superhuman powers because he was genetically engineered, so he's kind of like an organic computer that doesn't have a belly button. I like it because it's interesting in that it could almost be true. They can genetically engineer people, why couldn't this happen? In the first season, since he had just come out of his fake womb at 16, he didn't know how to talk or interact with people, so that was pretty funny. Now he's trying to figure out how to be a teenage kid who's normal, but he's totally not."
Nip/Tuck "It's kind of a soap opera about plastic surgeons and porn stars and all kinds of dirty people. It's all about sex and doin' surgery."
Bound Up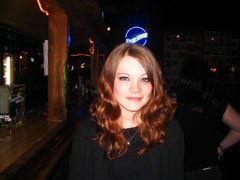 Currently reading: "I Hope They Serve Beer In Hell" by Tucker Max "It's amazing-Tucker Max has surpassed Courtney Love as my own personal hero. This book is all about this guy when he goes out drinking, mocks others relentlessly, and makes a giant ass of himself. He sleeps with all of these stupid girls-it's pretty funny and pretty dehumanizing. They're all true short stories about him and his friends in different cities throughout the country. He's famous for writing down the weird situations he gets into. For example, he's banned from the Embassy Suites for shitting all over their lobby once. There's a story where he convinces this girl he's seeing to let him have anal sex with her, and he has the bright idea to have his friend hide in the closet and film it. So they get really drunk and they come home, and she's like, 'I'm ready.' So they start having anal sex, but he finds out that it's a little messier than he anticipated it to be.
One book everyone should read: "The Little Prince" by Antoine de Saint Exupery "It's a book about the secret of life and the way to finding happiness, wrapped up in an adorable little scarfed man in outer space who has his own volcano. I forget the actual quote--it's on the bathroom wall here-but it's something like, 'It is only with the heart that one can see rightly.' The idea is that your inner self is all you need to find happiness. It's wrapped up in this cutesy story, like when the prince meets this businessman who thinks he owns all of the stars, counting them over and over again, but he doesn't own them. Then he meets a tippler who drinks constantly, and then a lamplighter who lives on a planet where the sun rises and sets every 30 seconds, so lighting the lamps is meaningless. He goes through all of these different interactions with people and learns what you should and shouldn't care about. It's supposed to be a children's novel, but adults can enjoy it, too."
Oh, KU Basketball...How I Love You. Let Me Count the Top 20 Ways
1. Made it into Final Four by defeating upstart Davidson in heart-stopping game
2. Hopes of those who believe in miracles destroyed in the process
3. Provides opportunity for Lawrencians of all stripes to unite around common causes
4. Not the least of which is overturning Hummers
5. Polite anarchy in Lawrence streets following tournament victories
6. Resultant shirtless guys waving mops and PBRs with equal abandon
7. March Mustache Madness
8. April Anti-Depilatory Anxiety
9. Providing chance to take revenge against turncoat Roy Williams
10. Providing chance to lose to Roy Williams and stoking awesome rivalry for years to come
11. Mario Chalmers' outstanding defensive play
12. "Super Mario Bros."-theme reflexively being hummed by roomful of drunken idiots every time he appears on screen
13. Coach Bill Self getting on hands and knees following Davidson win
14. Mental image of Self barking and shaking hind leg when you scratch him in just the right place
15. Sasha Kaun's uplifting personal story
16. Sasha Kaun's name lending itself to both "Star Trek" and R&B singer Chaka Kahn references
17. Fried food and beer
18. Vomit, repeat
19. Bolsters school spirit
20. Which manifests itself with lewd t-shirts
Naked Data
Percent of the world's poor that live in rural areas in developing countries: 75
Percent of official development assistance that goes to agriculture: 4
Percent of the world's utilized water consumed by agriculture: 85
Number of people who live in rural areas of agriculture-based countries: 417 million
Number of them who live on less than $1 a day: 170 million
Percent of the labor force in Sub-Saharan Africa employed by agriculture: 65
Calories provided per person per day by the American aggregate food supply in 2000: 3,800
In 1970: 3,300
In 1958: 3,000
Number of the 3,800 calories lost to spoilage, plate waste, cooking or other losses, leaving the dietary intake at about 2,700 per person per day: 1,100
Percent increase in the average American's calorie intake since 1970: 24.5
Percentage points of the increase accounted for by grains: 9.5
Fats and oils: 9
Sugars: 4.7
Fruits and vegetables: 1.5
Meats and nuts: 1
Dairy products and eggs: -1.5
Percent of American adults who were overweight in 2000: 62
In 1980: 46
Pounds of meat consumed per American in 2000: 195
Annual rate in the 1950s: 138
Sources: The World Bank's World Development Report 2008, U.S. Department of Agriculture