On Deck
...wherein we listen to what Lawrence's movers and shakers are moving and shaking. to.
Jim Lauderdale, "The Bluegrass Diaries"
Romantica, "America"
Leadbelly, "The Asch Recordings"
Woody Guthrie, "Folkways"
Drag the River, "You Can't Live This Way"
Tubers
...wherein local TV connoisseurs intimate what keeps them on their couches.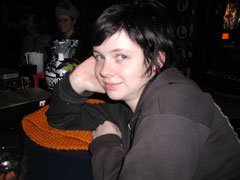 "Tell Me You Love Me" "It's very intense. It follows these four couples and it's all about how f*cked up it is to be in a relationship. It has totally graphic sex scenes. It's always interesting to watch people f*ck their lives up. There's one girl who's obsessed with sex so she can't be in a normal relationship because she cheats a lot. There's another couple that have been married for a long time and have three kids so they don't have sex. Everybody's kind of twisted up, and it's fun to watch that because it's real."
"Antiques Roadshow" "People bring all of their old stuff to these conventions to find out how much it's worth. I enjoy watching people's old stuff being appraised because I collect old stuff. I like it when people have absolutely no idea at all how much their stuff is worth and are really surprised, especially when people think their shit is worth a lot of money and find out it's worth $10. It's sad."
"Cash Cab" "There's a cab in New York that drives around and picks up unsuspecting people that don't know that they're about to play trivia. I like trivia and I like the concept of it being in an everyday sort of circumstance. I really like the ambush aspect of it. They have a 'Cash Cab After Dark' where the questions are harder and the people are drunk a lot of times because they're picked up outside of bars. There was one episode where a woman was very obviously stoned and she did horribly."
Bound Up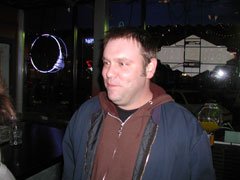 Currently reading: "Haunted" by Chuck Palahniuk "It's a bunch of short stories written by these characters that are tricked into going to an artists' retreat by a child with progeria. It's like the Mary Shelley thing where she wrote 'Frankenstein' and they wanted to isolate themselves. There's a pearl-diving story about beating off at the bottom of a pool. It's entertaining. I read it while I'm at the laundromat."
One book everyone should read: "Life of Pi" by Yann Martel "It's the best book I've read in the last couple of years. It's about a man who gets stranded in the ocean on a life raft with a tiger, a hyena and an orangutan. Oh, and a zebra. The point of it was, 'Is the best story you could ever tell more fantastical than your actual life?' It's really fascinating. This guy is projecting these things to deal with the cruelty of the situation and the brutality of being on this boat. It's hard to explain. You should just read it."
Top 20 Alternate Titles For This Issue's Guitar Hero Story
1. Guitarmageddon
2. Rawk the Line
3. Shred Trauma
4. How Many Licks Does It Take to Melt Off Your Face?
5. Wail Hunters
6. Hero Worship
7. Thrash & Burn
8. Virtua Chops
9. Axe & Ye Shall Receive
10. Jammer of the Gods
11. To the Blistered, the Spoils
12. As My Guitar Violently Bleeds
13. Jam vs. Machine
14. Masturbation, Red Bull, and Rock & Roll
15. For Those About to Rock, We PWN You
16. Pickin' and Winnin'
17. Wicked Guitarded
18. Solo Asylum
19. Strum und Drang
20. Axes of Evil
Naked Data
Years ago, Jan. 12, some female KU students started a campaign called "lips that touch liquor will never touch mine": 110
Number of Kansas cattle slaughtered in 2006, most among all states: 7,543,100
Percent of U.S. beef that came from Kansas: 22.4
Percent of U.S. sorghum grain that came from Kansas: 52.2
Percent of Kansans who work in jobs related to agriculture and food production: 20
Number of waffles served at Waffle House since the first one opened in 1955: 495,264,367
Number of girls in the U.S. who get pregnant by age 20: 1 in 3
Percent of teenage girls under age 15 who gave birth in 2006: .06
Percent of them who were married: 1.7
Most googled presidential campaign in 2007: Ron Paul
Most googled lawsuit: borat lawsuit
Most googled recipe: master cleanse recipe
Most googled ringtone: mosquito ringtone
Most googled "who is" question: who is god
Most googled "what is" question: what is love
Most googled "how to" question: how to kiss
Sources: kuhistory.com, Kansas Department of Agriculture, Waffle House, National Campaign to Prevent Teen and Unplanned Pregnancy, Google-compiled by Frank Tankard