On Deck
...wherein we listen to what Lawrence's movers and shakers are moving and shaking. to.
Akron/Family, "Love Is Simple"
The Soft Boys, "Underwater Moonlight... And How It Got There"
Why?, "Alopecia"
MGMT, "Oracular Spectacular"
Le Luci Della Centrale Elettrica, "Canzoni Da Spiaggia Deturpata"
Tubers
...wherein local TV connoisseurs intimate what keeps them on their couches.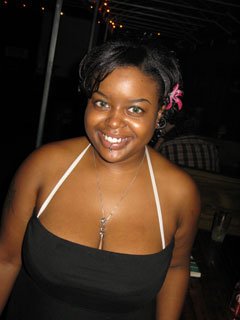 "Flavor of Love 3" "It's this old rapper from Public Enemy that can't seem to find anybody other than baby mommas and whores that want his money, so he has a reality TV show to find love amongst hoochie mommas from all over the country. The show consists of the women fighting all of the time, like high school all over again with all of the cattiness filmed. It's beautiful. Those bitches are nasty."
"Celebrity Fit Club" "It's old, has-been stars who are now overweight that need to make money so they go on TV and get yelled at by a make-believe drill sergeant. It's hilarious. Dustin Diamond, who played Screech on 'Saved by the Bell,' is on it this season and he's a sad, pathetic little fat man. His sex tape might be worse than Paris Hilton's, although not as weird as Mini Me's. Vern Troyer can probably fit his head in places where it shouldn't be fit."
"The Daily Show" "It's Jon Stewart making fun of the news and all of the ridiculous politician's that are in it. I mean, shit, more people my age watch 'The Daily Show' than watch the real news. Samantha Bee is a wonderful bitch, I will say that. Stephen Colbert is like Jon Stewart's retarded, idiot savant little brother."
Bound Up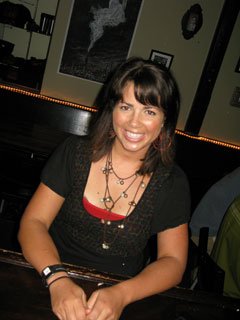 Currently reading: "The Enchantress of Florence" by Salman Rushdie "It's about an Italian impostor who arrives in a far Eastern court and pretends to be some sort of magical interpreter of the ruler's dreams. There's a twist in there, but I'm not going to tell you what it is. I believe Rushdie, with this book, is trying to distance himself from his 'Midnight's Children' phase of religious polarization. I've read pretty much every book Rushdie has written and I appreciate his descriptive writing in an age when most people are looking for immediate answers or quick anecdotes. He's a novelist's novelist."
One book everyone should read: "The Madwoman in the Attic: The Woman Writer and the Ninteenth-Cuntury Literary Imagination" by Susan Gubar "For everyone who may be interested in literature and the anxiety of influence that may come from producing any sort of writing. It's a critical work for female writers who might feel the need to look back on a literary past and find no sort of female role models. I actually used it for my last term paper. As a critical reference, I like it because of its feminist focus on the female author and the fact that the female author, when writing, simply does not have as many literary role models as the male author in Western culture."
Top 20 Alternate Titles For Ted Nugent Interview
1 Gun Nation, Under Ted
2 The Big Wang Theory
3 Nuge, Hairy Balls
4 Ted Head
5 High Poon
6 The Gospel According to Nuge
7 Nuge Spooge
8 Yankee Doodle Randy
9 The Mouth Shall Rise Again
10 Bow Job
11 Dawn of the Ted
12 Oh Slay Can You See
13 Public Nugity
14 Nuge of the Weird
15 Better Ted Than Red
16 Wangerous Liaisons
17 Tedicular Fortitude
18 Red, Wang and Poon
19 Cat Scratch Fever Doesn't Really Rhyme with Anything in this Context
20 Hunter Blatherer
-assembled by Gavon Laessig
NAKED DATA
Age at death of Bo Diddley: 79
Queen Victoria: 81
King Henry VIII: 55
Queen Elizabeth I: 69
Mohandas Gandhi: 78
Henry David Thoreau: 44
Ralph Waldo Emerson: 78
Billie Holiday: 44
Bessie Smith: 43
Woody Guthrie: 55
Marilyn Monroe: 36
Jack Kerouac: 47
Joe DiMaggio: 84
Mickey Mantle: 63
Audrey Hepburn: 63
Source: compiled by Frank Tankard