On Deck
...wherein we listen to what Lawrence's movers and shakers are moving and shaking. to.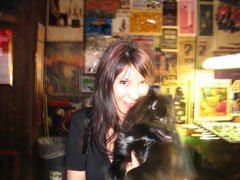 Buried Alive, "Last Rights"
Poison the Well, "The Opposite of December"
Tupac, "All Eyez on Me"
The Police, "Outlandos D'Amour"
Cheap Trick, "Dream Police"
Tubers
...wherein local TV connoisseurs intimate what keeps them on their couches.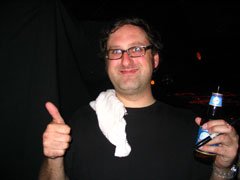 "Nathan Barley" "It's a BBC show. Just buy it-trust me. It's got Chris Morris in it, who's possibly the funniest guy in England making shows right now. Your mind will be so expanded. It's a mandatory thing."
"Jam" "Another Chris Morris show, which is mind blowing and possibly the funniest thing I've ever seen in my life. It's like David Lynch meets 'Mr. Show'-it's slightly sketch comedy but it's so disturbing and beautiful. It's very much in the same vein as what we do-very dark, f*cking disturbing and awesome."
"Look Around You" "Another BBC show-I don't really watch American television except for 'The Office,' which I think is a great show. 'Look Around You' is a fake, '70s science show. It's very absurd and surreal and really funny. It's along the lines of 'Garth Marenghi's Dark Place,' although it's not as silly. Definitely in the same vein of awesomeness. I don't watch most 'Adult Swim' programs, although I like 'Xavier' and old 'Aqua Teen Hunger Force.' So far as 'Family Guy' reruns being the highest rated show on 'Adult Swim,' that's America, right? A majority of America likes that stuff, and that's fine. I think some of what they do is really funny and we may do a voice for them soon. We don't want to be the most popular show. This is a club that we're in that's very special and I don't want it to go beyond that."
Bound Up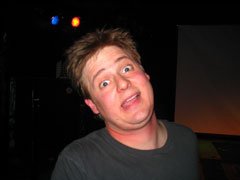 Currently reading: "John Adams" by David McCullough (To a gentleman offering him an Irish car bomb) "Hey, I'm being interviewed right now by a very prominent radio station in Lawrence! I started reading it because I saw the HBO series and I wanted more. I went backwards, moving from the show to the book. John Adams is the unsung hero of the reason why we have our country. He is the genius behind the foundation of America, and it wasn't all pretty. I just love long, boring period pieces that help me get to sleep at night."
One book everyone should read: "The Wind-Up Bird Chronicle" by Haruki Murakami "It's about a man whose wife leaves him and he goes crazy. It's one of those books that makes you believe in how words are put together, and how wonderful that can be for your eyes and your brain. It's really f*cking depressing, too. It made me want to read more books."
Top 20 Rejected Titles For "Actual News" Items
Australian Seat Sniffing Story
1 The Land Brown Under
2 Asses the Sniff Test
3 Kangaroo Jack Off
4 Australian For Rear
5 Asstralia
Chief Justice Roberts Visits KU
1 Justice Leave of America
2 Anal Robe
3 Queef Justice
4 Judge Packer
5 Bench Pressed
Override Failure On Coal Plants Veto
1 Maximum Override
2 Up In Smoke
3 Stiffed Opposition
4 Douse of Representatives
5 Fossil Feud
DC Madam Suicide
1 Hang Ma'am
2 Swingers
3 Hook 'Em High
4 High Priced Fall Girl
5 The Audacity of Rope
Naked Data
Cost per vote generated from text messaging young voters the day before the November 2006 national elections: $1.56
From phone calls: $20
Door-to-door canvassing: $30
Handing out leaflets: $32
Direct mail: $67
Number of 18 to 29 year olds who voted in the 2004 presidential election: 20.1 million
In the 2000 election: 15.7 million
Percent of journalists in Iraq who reported in a survey that at least one of their Iraqi staff members had been murdered or kidnapped in the past year: 57
Percent who said their staff received verbal or physical threats several times a month: 46
Percent who said their staff can't safely identify themselves as working for a news organization: 87
Estimated number of Iraqis who died from violence between March 2003 and June 2006: 151,000
Percent of women in Iraq who reported in a survey that they had heard of AIDS: 57
In Turkey: 84
Egypt: 84
Morocco: 91
Jordan: 97
Number of Cherokees who died 170 years ago marching from Georgia to present-day Oklahoma on the Trail of Tears: more than 4,000
Sources: New Voters Project, Project for Excellence in Journalism, World Health Organization, PBS