On Deck
...wherein we listen to what Lawrence's movers and shakers are moving and shaking. to.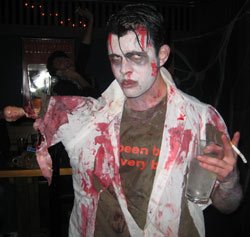 Killing Joke "Night Time"
The Ventures "Surf"
The Cramps "Bad Music for Bad People"
The Dillinger Escape Plane "Calculating Infinity"
The Melvins "A Senile Animal"
Tubers
...wherein local TV connoisseurs intimate what keeps them on their couches.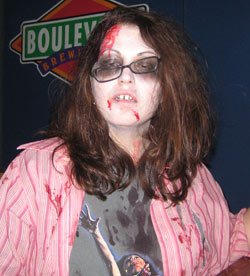 Dexter "Dexter's awesome because he works for the police as a forensic specialist, but he's actually a serial killer who kills serial killers. I like it because I've always loved horror movies and the fact that the good guy is also a bad guy all in one-it's a paradox we can all enjoy. I would have to say one of my favorite moments is from the very first episode. It's gruesome and very emotional at once. He kidnaps a guy who seems like a fun loving family man but turns out to be a child molester and murderer. Dexter has taken a lot of time to dig up this guy's victims and piece them back together so he can show him what he's done. He explains to him why he has to die, wraps him in cellophane, takes a droplet of his blood as a trophy and proceeds to dismember him. There should be somebody in Lawrence doing this. Somebody needs to find the Cat Ripper, because I love cats and hate that f*cker."
Weeds "It's about a single mother trying to support her family by selling marijuana. I enjoy it because it shows where things can go wrong in that situation, but how there are also benefits."
Starsky and Hutch "It's a little hard to describe 'Starsky and Hutch,' because when I watch it I'm usually pretty f*cking drunk. It's one of those shows where I need to be inebriated to fully enjoy the cheesiness. It's about a couple of cops who are usually undercover and are looking to get laid and blow shit up. They're trying to have a good time and right the wrongs. Since they were frequently shirtless,there was definitely a homoerotic aspect to the show. Huggy Bear? You gotta love him. He's pimp number one and inspired one the best Halloween costumes ever. Chug that pimp goblet!"
Bound Up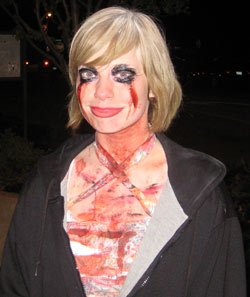 Currently reading: "The Russian Tragedy: The Burden of History" by Hugh Ragsdale "It's about the Russian Revolution, Communism, and how it all went wrong. It's a very difficult read. I have a recent interest in Communism right now and I don't know why. I've learned that Russia practiced a fake Communism and didn't strictly adhere to the rules written by Marx. Oh, and the Bolsheviks are crazy."
One book everyone should read: Book everyone should read: "Genetically Altered Foods and Your Health" by Ken Roseboro "It talks about genetically modified foods and, basically, how they're bad. The FDA doesn't even require testing on them. It says that 70% of processed food is genetically modified and customers aren't alerted about it. No one knows how it will affect us in the coming years. It's a very informative book, and I recommend it because I care about my health and not dying."