On Deck
...wherein we listen to what Lawrence's movers and shakers are moving and shaking. to.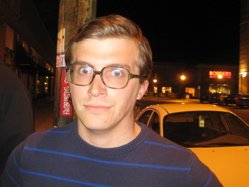 A Faulty Chromosome "A Faulty Chromosome"
XO Skeletons "Asthmagasm"
Bay City Rollers "The Definitive Collection"
Sabastian Boaz "Warm Feeling"
2 Live Crew "As Nasty As They Wanna Be"
Tubers
...wherein local TV connoisseurs intimate what keeps them on their couches.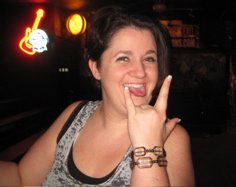 True Blood "It's f*cking awesome. It's about vampires living amongst normal people and the integration of the two. It's about acceptance. Vampires should be allowed to live however they'd like."
Weeds "It's about a mother who's struggling to support her family and she's got to do what she's got to do. She partakes in an entrepreneurial venture to sell green leafage. Delicious green leafage. Everybody wants to get high, what can I say?"
Scrubs "It's their final season. I think it was better back when it was on NBC, but whatever. It's about a bunch of f*ckers who are in medical school and all the bullshit they have to go through. I really like the relationship between J.D. and Dr. Cox. There's an obvious homoerotic undercurrent there, but because of doctor/patient confidentiality we'll never know for sure."
Bound Up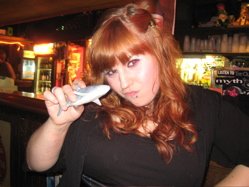 Currently reading: "Snuff" by Chuck Palahniuk "I just started it, I'm only 6 pages into it. Palahniuk is creepy and really interesting.  'Snuff' is about a porn star and her goal to be f*cked by as many people possible and trying to set a world record for f*cking. It has multiple points of view, from her and a few different guys that are in this room waiting to f*ck her. Palahniuk is great. He recently wrote a short story that, when he reads it in public, will make people spontaneously vomit. I'm too desensitized at this point for that to happen to me, but I'm hoping to read a passage in 'Snuff' that might make somebody else vomit."
One book everyone should read: "Lolita" by Vladimir Nabokov "It's about a 13 year old girl and the man that becomes obsessed with her. This guy, Humbert Humbert, is obsessed with nymphets and marries her mother so he can get close to Lolita and bed her. It's really touching even though it's basically about Humbert being a pedophile. The way that it's written is just beautiful. You can relate to him even if you're not a pedophile. At least I can, and I obviously don't f*ck teenage girls. It's just an interesting book and people shouldn't let their preconceptions prevent them from reading it."