Trouble in 1970
A total of 45 persons were arrested Wednesday night in connection with continued harassment and seditious activity in Lawrence as a second night of curfew passed without any major new violence or damage.
Curfew is scheduled again tonight with the starting time 10 p.m. instead of 8 p.m. as was the case Wednesday.
Wednesday saw the third straight night of turmoil which began Monday with a $2 million Kansas Union fire which has unofficially been attributed to arson, as have virtually all the other fire reports during the period.
One of those arrested Wednesday night for curfew violation was the outgoing president of the KU student body, David S. Awbrey, 22, Hutchinson senior. Awbrey, who will give up his role as student senate leader April 29, was arrested with a group of nine persons picked up in a search of a house at 1234 Oread.
John Naramore, Wichita senior who rooms with Awbrey, said he and Awbrey were among a group of persons who were in the general vicinity of 12th and Oread prior to the 8 p.m. curfew. Naramore said Awbrey had gone there out of curiosity and in hopes of preventing trouble.
Naramore speculated that Awbrey was trying to return to their home at 1340 Tenn. when he was arrested for violating the curfew. Naramore said he elected to remain in a house in the area rather than attempting to return home.
"We were up there and he split. I stayed in a house — had to sleep on the floor all night," Naramore said.
The areas along Oread and near the intersections of 13th with Ohio and Louisiana were the scenes of major incidents of sniping and fire bombing both Tuesday and Wednesday night.
National Guard troops deployed to patrol the Oread areas where the target of shouts by groups of youths in the houses along the street. "Go home," and "get the guns out of here," and "Sieg Heil" were shouted at some of the troops and police officers.
Public Safety Director Gilbert Smith along with other officers entered the house and forced many of the occupants out to a patrol car.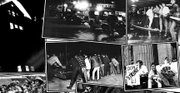 Forty years ago today, the Kansas Union burned. What followed was a year of violence and destruction not seen since Quantrill's Raid. While the unrest has long since dissipated, the memories remain.
As they came out with their hands behind their heads the youth shouted, "you better have your badges on. Anyone who doesn't have his name on is in trouble."
Those arrested included one woman. The big majority of those arrested were white. Most of them were KU students.
Another of the obstacles law enforcement personnel encountered in the area, sometimes referred to as "Hippie Haven," were treacherous strands of piano and barbed wire between houses and in the alleys, neck-high.
Piano wire strands were in the alleys and the barbed wire between the houses. Apparently the goal was to get officers to chase individuals into such mazes, with the subjects ducking to lure the officers into the traps.
The Wednesday trouble on Oread began, as it had Tuesday night, with an attempt to set the old "White House" at 1225 Oread on fire. The abandoned burned-out house has been the focal point of at least five attempts at arson in the past two weeks.
Another small fire was reported at 1200 Louisiana and a garage was burned in a fire at 1301 Ohio. National Guard troops, originally sent to the Oread scene, were also used at 14th and Tennessee, 13th and Ohio and 13th and Louisiana. In addition, National Guard troops and police officers responded to fire calls.
A KU traffic and security officer, James W. Davis, reported that he was fired on about 8:56 p.m. Wednesday near 14th and Louisiana, where he said he had chased and lost a "long-hair" prowler.
Of the 45 persons arrested, two were taken for possession of Molotov cocktails and one for arson about 9:15 p.m. at 1200 La. Possession of the incendiary bombs is a felony so the three were taken to county jail for booking.
All of the other arrests were of misdemeanors and bookings were at the city jail.
A fire bomb was thrown at one of the businesses on the west side of the 600 block of Massachusetts at 9:47 p.m. No suspect was located. There was no apparent damage listed.
The fire also cuased minor dmamge to the Military Science Building on the KU campus at about 12:55 a.m. A federal official said the fire was started on the small arms firing range and damage was around $500.
When asked about the possiblity of arson, the official said, "I can't see any other way."
About 40 minutes after the fire in the Military Science Building, a fire was reported in a trash dumpster behind KU Strong Hall. City firemen extinguished the blaze after efforts to control it with extinguishers failed.
A sub-station of Kansas Power & Light at 19th east of Iowa was knocked out of operation at about 7 p.m. Austin Stedham, KPL manager, said he did not know the cause of the fire. Arson was not discounted.
A downed power line was also reported on New York Street but KPL crews responding to the call were unable to find any lines down after several runs to the scene, Stedham said. Unlike Tuesday night, there were no confirmed reports of sniping by city police, Highway Patrolmen or National Guardsmen Wednesday during the curfew. Although police and National Guardsmen did report having rocks thrown at them, the only injury was one guardsman with a cut lip resulting from a thrown bottle. He did not require hospital treatment.