Saturday, December 12, 1970
Trouble in 1970
"Everything's still ringing — but I'm so happy."
Their eardrums were ruptured and they were cut and bruised. But they are happy. Happy to be alive.
Three Kansas University students were standing less than five feet from a bomb when it exploded at 11 p.m. Friday in a southeast corner stairwell of Summerfield Hall, home of the university's computation center.
Treated and released at Lawrence Memorial Hospital were Mrs. Carol Duster, 20, of 16-6 Stouffer Pl., a junior in education, St. Louis, Mo.; Vernon Breit, 21, of 1821 W. 26th, a senior in chemical engineering of Scott City; and Victor Harrison, 21, of 1918 Stewart, a senior in business, Wichita.
None was seriously injured.
All three student employees had been warned of the bomb threat by shift supervisor John Seitz. Breit and Mrs. Duster were operating the card reader in one room and Harrison was in another room down the hallway.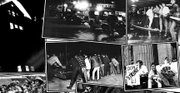 Forty years ago today, the Kansas Union burned. What followed was a year of violence and destruction not seen since Quantrill's Raid. While the unrest has long since dissipated, the memories remain.
But they didn't take the warning too seriously. Threats had been made on the computation center several times earlier in the week. Mrs. Duster said she took the whole tings "more or leess half-heartedly," and Breit didn't take it too seriously, "but now I will."
"The girl and I went outside through the east doors, (right past the bomb, Breit claimed), out by two annexes and told the people out there," he recalled. "We had no coats and we were shivering."
They decided it was too cold to remain outside for an explosion that may never occur. Had it been only slightly warmer, they never would have re-entered the building.
"We started back inside and went through two big glass doors at the east end of the building and right inside the staircase there are a couple of big metal doors. They had those locked for security reasons, so we couldn't get in those," Breit said.
"We were standing there pulling those when the other operator who was hurt (Harrison) came back and helped push it open (from the other side)."
"As I started to pull it open the bomb went off, five or six feet from us. The next thing I remember is waking up and they were putting bandages around my head," Breit said.
Harrison declined to give his account of the story, saying he had been told not to by law enforcement officers.
Both Harrison and Breit were knocked unconscious. Harrison apparently was thrown back into the hallway and Breit believes he was thrown outside.
But Mrs. Duster never lost consciousness.
"I though I was being electrocuted. I was thrown on the ground and everything turned black," she recalled. "My hair was sticking out in all directions, that's why I though I had been electrocuted. I couldn't hear and I was very scared.
"I thought everything was on top of me. It was so dark and I couldn't open my eyes.
"I started screaming right away and asking for help and someone picked me up and they carried me out. My husband had to come to pick me up at 11 so he was there immediately," she said.
All three were loaded on stretchers and placed in the ambulance.
"They didn't ring the sirens because the girl couldn't stand it," Breit said. "It was halfway through the night before the ringing (in his ears) stopped."
Harrison and Mrs. Duster both suffered ruptured eardrums and a blood blister formed on Breit's right ear. Breit also suffered two big gashes on the right side of his head and on his right arm. Harrison received strained muscles in his rib cage and all have cuts and bruises.
"I suppose I sort of feel sorry for people who have to do this. It reminds me of a little kid when he doesn't get what he wants. He throws a temper tantrum and breaks something," Harrison said.
"It's got to be a twisted mind — especially to call and say you have three minutes and to have it go off two minutes later. Nobody really thinks about the consequences of what they're doing," Breit said.
More like this story on Lawrence.com