Tuesday, July 21
The Lawrence City Commission this afternoon asked Gov. Robert Docking to proclaim a "state of crisis and emergency" in Lawrence following five nights of violence that resulted in the slaying of two youths.
A fifth straight night of violence in Lawrence ended tragically Monday night when an 18-year-old Leawood youth was fatally shot during a disturbance near the Kansas University campus.
Friday, July 17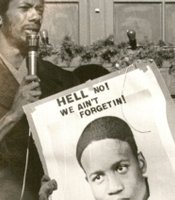 A 19-year-old Lawrence Negro youth was shot and killed during a gun battle with police Thursday night touching off a series of sniping and firebombing incidents that lasted until dawn.