Trouble in 1970
A 19-year-old Lawrence Negro youth was shot and killed during a gun battle with police Thursday night touching off a series of sniping and firebombing incidents that lasted until dawn.
Rick Dowdell, 19, of 918 W. 24th, was killed, according to policemen, when he fired at a patrolman while fleeing down the alley between New Hampshire and Rhode Island south of Ninth Street.
After word of Dowdell's death spread through the black community, sniping and firebombing incidents broke out in East Lawrence. At least two other persons were injured in the violence.
Two police patrol cars were hit by snipers and Lawrence Launderers and Dry Cleaners, 1029 N.H., was hit by a firebomb just before dawn. Damage in all cases was listed as slight. No arrests have been made.
Events leading to the shooting of Dowdell began about 10:30 p.m. when police received reports of shooting in the area of New York School, 936 N.Y.
Patrolman Kennard Avey, one of the first of several policemen on the scene, reported he was fired upon as he passed near the school. Shots also were fired at Wilson Glass Co. and Rodgers Electric Co., 512 E. Ninth.
Avey said he saw two persons leave the area of the shooting and head toward "Afro House," 946 1/2 R.I. The Afro House is a black culture center supported in part by Kansas University student activity fees.
Avey said he saw the two persons go into Afro House. At that point, Avey joined Patrolman William Garrett, 27, in Garrett's patrol car at the corner of 10th and Connecticut. Garrett and Avey were trying to decide whether to approach the house when two persons came out of the house, got into a Volkswagen with Oklahoma license plates and headed west on 10th Street.
The officers later told investigators that they could not identify the persons who went into the house or who later came out.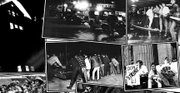 Forty years ago today, the Kansas Union burned. What followed was a year of violence and destruction not seen since Quantrill's Raid. While the unrest has long since dissipated, the memories remain.
According to the policemen, the Volkswagen headed west on 10th Street and ran the stop sign at 10th and New Hampshire. They said the car turned north into the alley between Massachusetts and New Hampshire. The officers said they pursued the car north through the alley to Ninth Street.
They said they had started their flashing red light when the car headed back to the east on Ninth Street. The policemen said the car ran the stop sign at Ninth and New Hampshire and apparently was attempting to turn south into the alley between New Hampshire and Rhode Island but overshot the alley and struck a curb.
The officers said they saw Dowdell get out of the passenger side door with a gun in his hand. Garrett ordered Dowdell to halt and fired a warning shot into the air. Garrett said Dowdell shot back at him once and he then fired three times at Dowdell.
Dowdell was hit in the back of the head and neck by one shot and apparently died instantly. He was pronounced dead at the scene by County Coroner Dr. James Reed at about 10:45 p.m.
A .357 Ruger Blackhawk single action pistol was found a few inches from Dowdell's left hand according to officers. He was wearing a shoulder holster.
The fatal shooting was the first by Lawrence policeman since June, 1966, according to Police Chief Richard Stanwix.
The driver of the Volkswagen was identified as Franki Cole, a freshman at Kansas University, of 1815 Naismith. She was questioned by County Attorney Dan Young and other law enforcement officers after the shooting, but she has not been charged.
Young, Sheriff Rex Johnson, Police Chief Richard Stanwix, Assistant City Manager Dennis Kallsen, highway patrolmen, Kansas Bureau of Investigation officials, and other city and county officials met at the courthouse until after 3:30 a.m. to question witnesses.
Miss Cole was represented by Attorney David Culp, KU assistant professor of law. She did not give police any statement. Culp was accompanied by KU law professor Lawrence Velvel and Prof. John Wright of the KU human development and family living department.
Besides Miss Cole, police questioned Garrett, Avey, Patrolman Gale Pinegar, who also was at the scene and Brian Hampton, a private security guard who was in the area at the time of the shooting.
Neither Miss Cole nor Culp, her attorney, could be reached for comment in the incident today.
While the questioning of witnesses was going on inside the courthouse, four men standing outside the courthouse were fired upon by a sniper.
Dolph C. Simons Jr., publisher of the Journal-World; Jerry Schwartz, a Journal-World reporter; Arden Booth, owner-manager of KLWN radio; and Dennis Kallsen, assistant city manager, were fired upon by snipers apparently in South Park. About six to 12 shots were fired.
After the meeting in the courthouse, Young gave a statement to members of the press at about 3:35 a.m. He said a coroner's inquest would be convened but he did not have any details and did not know when the inquest would be held.
Earlier two patrol cars were hit by slugs. One of the cars apparently was hit by a 30-caliber armor piercing rifle.
The shot was fired at Patrolman David Reade as he was cruising southbound on New Hampshire at 10th Street. Reade said the shot apparently was fired by a Negro male, wearing a red shirt, east of New Hampshire on 10th.
The slug pierced the car about chest level just in front of the driver's door, Reade said. In the car with Reade at the time was Ron Birdsong, a police officer at the University of Missouri at Kansas City. Birdsong said he had just come to Lawrence to ride around.
Kallsen later said it is against regulations for "private citizens" to ride in local patrol cars. He said Birdsong would fall into this category.
One other car was hit during the violence but details were not immediately available.